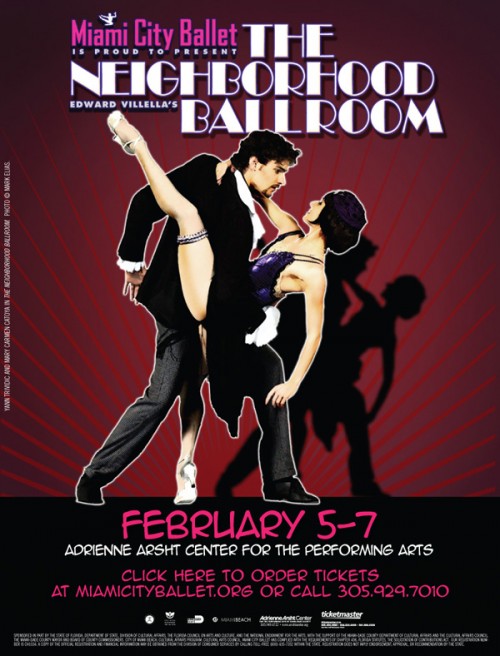 Adrienne Arsht Center
Ziff Ballet Opera House
February 5-7, 2010
Friday, Feb. 5 at 8:00 p.m.
Saturday, Feb. 6 at 8:00 p.m.
Sunday, Feb. 7 at 2:00 p.m.
Adrienne Arsht Center for the Performing Arts of Miami-Dade County
1300 NE Biscayne Boulevard
Miami, FL
Theater: 305.949.6722
Tickets: 877.929.7010
More info and buy tickets
Choreography by Villella
As his life unfolds, a man strives to master the complexities of the human Dance of Life. When we first encounter him, he is a gifted, 17 year old aspiring Poet. We follow the Poet through the stages of his life, with its ever-changing rhythms, until he reaches his sixties – a time when he must look back and reflect upon the life he has made for himself.
At each stage of his life, while confronting some very human temptations, the Poet must choose: between love and sexual desire, intoxication and lucidity, and his art and material success. Following in the long, romanticized tradition of artists and their self-destructive attraction to alcohol and drugs, the Poet, seduced by both throughout his life, loses the muse of his art and the possibility of genuine love. The Poet's destiny and own Dance of Life are set in motion in the Prologue, when we hear the French poet Charles Baudelaire's exhortation about life: "One must be intoxicated always … With wine, poetry, or with virtue, your choice. But intoxicate yourself." In the end, it is the Poet's character, as manifested by a lifetime's accumulation of choices, that determines his destiny.
Set in a neighborhood ballroom in New York, the ballet begins in the late Belle Epoque with the Boston Waltz and continues through the Jazz Age with the Quick Step, Charleston, Castle Walk and Maxixe, the 1940s war years with their Fox Trot and Lindy Hop and the 1950s with its Mambo.
Miami Arts