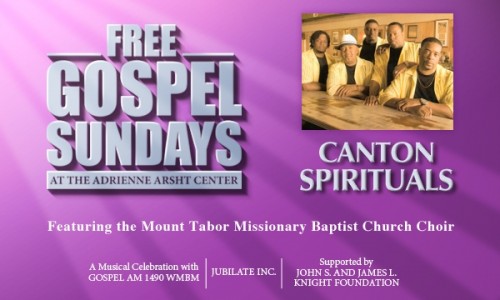 Free Gospel Sundays Featuring The Canton Spirituals at the Adrienne Arsht Center
Sunday, February 21 @ 4 p.m.
John S. and James L. Knight Concert Hall
Don't miss the Grammy-nominated and Stellar Award-winning pioneers of traditional gospel music, The Canton Spirituals. The group has performed with such artists as Take 6, The Sounds of Blackness, Mom and Pop Winans, Shirley Caesar, The Williams Brothers, The Gospel Keynotes, Milton Brunson, The Mississippi Mass Choir, and the late, great, Frank Williams.
For their performance at the Adrienne Arsht Center's Free Gospel Sunday, they will be joined by the Mt. Tabor Missionary Baptist Church Choir and the Free Gospel Sunday's Mass Choir.
Tickets are going fast, so be sure to reserve your seats! There will also be a first-come, first-serve line for last minute availability on the day of the performance starting at 3 p.m.
RESERVE YOUR FREE* TICKETS NOW
or call our box office at 305.949.6722.
* Reservations limited to 4 tickets per person. Reservations do not guarantee admission. Seating is limited and will be on a first-come, first-seated basis. Please arrive early.