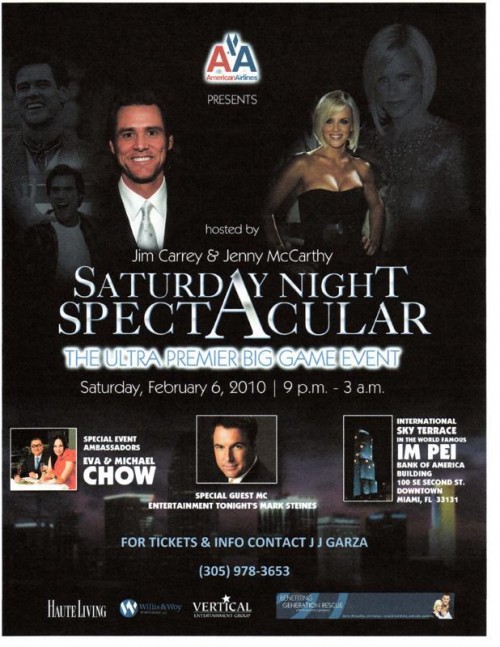 Ajax Entertainment invites you to the big game weekend's hottest, star studded, celebrity parties!
Saturday Night Jim Carrey and Jenny McCarthy's Saturday Night Spectacular
www.saturdaynightspectacular.com
Featuring Jim Karol "the Madman-Mentalist"
Jim Karol is truly one of the most unique and amazing individuals of our time. He has risen from the steel mills of PA to becoming one of the most sought after acts in the industry. Jim's highly energetic and charismatic personality along with his incredible memory, has landed him over 4,000 shows and worldwide attention, including the front page of the Wall Street Journal.
The highest profile Big Game Party travels to Miami. Over the last three years it has cemented itself as a trend setting Event.
The Event has all the elements needed to create a superbly entertaining and high energy extravaganza including Celebrity Star power, top notch Entertainment and delectable Food, all combined in a first class setting.
Tickets: $1,000.00
Poker Entry: $2,500.00
VIP Poker Entry: $7,500.00
All Tickets are VIP with All Area Access, Ultra Premium Open Bar, Sushi Bar and world class passed H'orderves and Buffet stations provided by "III Forks".
Cabanas (only 3 available): $20,000.00
Includes:
One designated Hostess,
One designated Cocktail Waitress
10 Tickets, Ultra Premium Bottle Service (5 Bottles)
VIP entrance (no line wait)