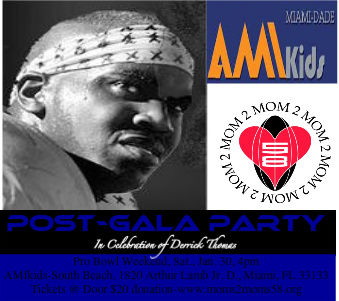 The "Getting Onboard for Kids" Gala to Honor Derrick Thomas Post-Gala Party
Jan. 30 @ 4:00pm.
The Gala at sea may be sold out but you can still celebrate with us on the beach! Join us for a "mini-Gala" and have "fun for a cause" at the AMIkids & Mom 2 Mom 58 Post-Gala Party. We'll enjoy food, music, spirits, prizes & a chance to snag some top-notch sports & entertainment products with a special silent auction all in beach fashion!
The Post-Gala Party is being held at the AMIkids-South complex located at 1820 Arthur Lamb Jr. Rd, Miami, FL..
This is a fundraiser with a $20 donation at the door and you can RSVP at www.moms2moms58.org for updates