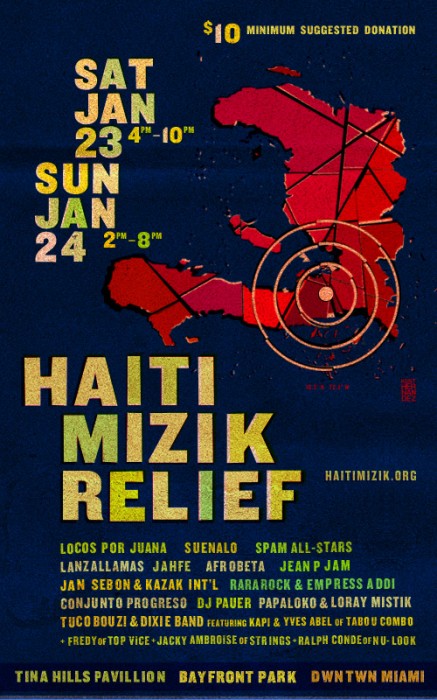 South Florida's Music Community Responds to the Haiti Crisis with the "Haiti Mizik Relief" Concert at Bayfront Park
Saturday, January 23rd & Sunday, January 24th
100% of donations will go to The American Red Cross for relief of the earthquake-devastated country.
A group of event producers, musicians, community leaders and activists have leveraged their network to quickly organize a 2-day Haiti Mizik Relief Concert at Bayfront Park's Tina Hills Pavilion on Saturday, January 23rd from 4pm-10pm and Sunday, January 24th from 2pm-8pm . The 100% benefit concert will collect a suggested $10 minimum donation at the door with all proceeds going directly to The American Red Cross for the immediate relief needs of Haiti. The benefit concert offers Miamians a chance to be together, listen to great music and raise desperately needed aid.
Miami's community and the world have felt a deep sense of responsibility and urgency to donate their money, time and talent in the wake of the Haiti tragedy. Sadly, the concert lineup includes musicians who have been personally affected by the tragedy losing close relatives and waiting desperately to connect with loved ones in the devastated island nation.
The Haiti Mizik Relief Concert will musically mirror the diverse rhythms of Miami's music community, featuring a plethora of Miami-based top Haitian, Latin Funk and World Music groups. Confirmed to appear are legendary Haitian Tuco Bouzi & Dixie Band performing along with Kapi & Yves Abel of Tabou Combo, Fredy of Top Vice, Jacky Ambroise of Strings, Ralph Conde of Nu-Look. Jan Sebon & Kazak International, Locos Por Juana, DJ Le Spam and The Spam All Stars, Rara Rock, Empress Addi & The Breeze, Jean P Jam, Papaloko & Lolay Mistik, Suénalo, Afrobeta, Conjunto Progreso, Jahfe, and DJ Pauer. Key leaders of both the Haitian and Miami community are also scheduled to appear.
The Haiti Mizik Relief Concert is produced on a not for profit/volunteer basis by The Rhythm Foundation and La Juana Productions, working closely with a group of musicians, artists and producers. Community support has been instantaneous and includes Epiphone, who has generously donated an Epiphone guitar that will be raffled off at the event and Bevinco of Miami has stepped in to provide for production needs. The Knight Foundation has also agreed to match donations up to $5,000. Media partners Miami New Times and WDNA 88.9FM have also agreed to sponsor the benefit concert.
For more information, volunteer opportunities or donations – please visit: http://www.haitimizik.org or e-mail haitimizik@gmail.com
Flyer Design by: Kent Hernandez, Madeira Productions
More Info: http://www.haitimuzik.org