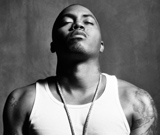 Nas with Goodie Mob
Friday, February 5 @ 8 p.m.
John S. and James L. Knight Concert Hall
"…a skilled lyricist with an old-fashioned commitment to street reportage and a lust for scorched-earth rhyme battle!" Rolling Stone
For over 15 years, Nas has been arguably one of hip hop's greatest MC's. His influence has touched artists from Jay Z to the Notorious B.I.G. to Wu-Tang Clan.
Writers and music critics have recognized Nas' contributions to the hip hop industry as iconic! Nas has contributed to the scene's artistic renaissance in New York, while marking an influential, stylistic change in hip hop music at the time.
You don't want to miss this ONE-NIGHT-ONLY concert! This night of hip hop kicks off with the one-and-only Goodie Mob, featuring Cee-Lo, Big Gipp, T-Mo and Khujo, who will join Nas on stage. This memorable ground-breaking show is guaranteed to get you out of your seat!
BUY TICKETS NOW
or call our box office at 305.949.6722 to purchase your tickets today!