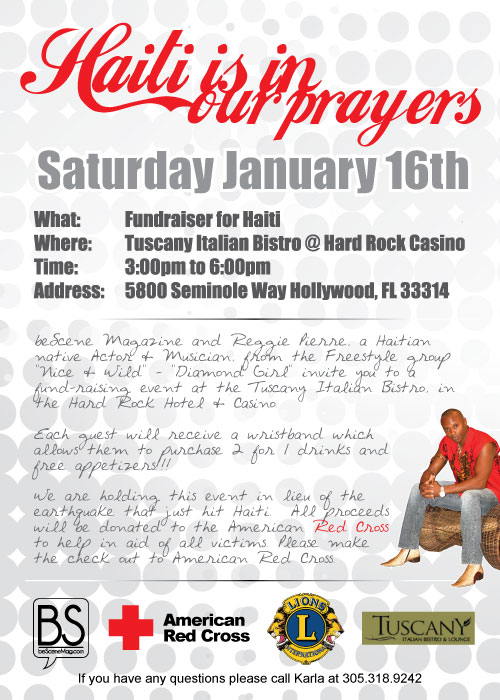 We all come together to help The Haitian Community!
Reggie Pierre a Hatian native Actor & Musician from the freestyle group "Nice & Wild"- Diamond Girl with tuscany Italian Bistro, American Red Cross, Bescene Magazine and Miami Nicaraguan Lions Club,Invite you to a fund-raising event at the tuscany Italian Bristp in the Hard Rock Hotel & Casino.
Sat january 16
From 3 PM to 6PM
Each Guest will receive a wristband which allows them to purchase 2 for 1 drinks and free appetizers!
Bring a non-Perishable Food please if you can.
We are holding this event in lieu of the earthquake that just hit Haiti.All proceeds will be donated to the American Red Cross to help in aid of all victims.
Please make check out to American Red Cross.
For more inf please contact:
Karla Smith (305) 318-9242
Diane Pierre T diane_Martinez77@yahoo.com
Carla Caceres (954) 297-2904
Tuscany(954) 584-1370
See More about Reggie at www.reggiepierre.com
Thank you for using Soul Of Miami!