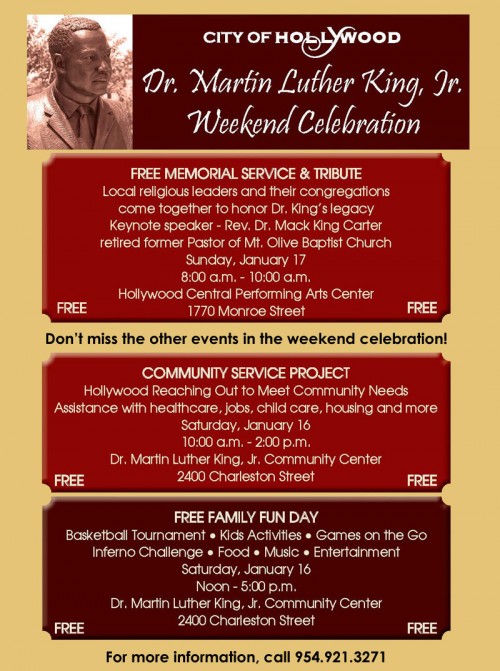 Dr. Martin Luther King, Jr. Memorial Service and Tribute
Sunday, January 17th, 8:00 – 10:00 am
Hollywood Central Performing Arts Center, 1770 Monroe Street
Local religious leaders and their congregations come together to honor Dr. King's legacy.
Keynote speaker: Rev. Dr. Mack King Carter, retired former Pastor of Mt. Olive Baptist Church
Other Weekend Celebration events:
Community Service Project
Saturday, January 16th, 10:00 am – 2:00 pm
Dr. Martin Luther King, Jr. Community Center, 2400 Charleston Street
Hollywood Reaching Out to Meet Community Needs
Assistance with healthcare, jobs, child care, housing and more.
Free Family Fun Day
Saturday, January 16th, 12:00 – 5:00 pm
Dr. Martin Luther King, Jr. Community Center, 2400 Charleston Street
Basketball Tournament, Kids' Activities, Games on the Go, Inferno Challenge, Food, Music, Entertainment