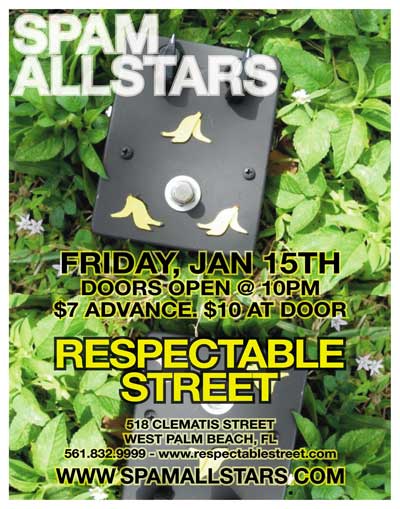 Spam Allstars are back in full swing for 2010. This year will be full of gigging, recording, and new releases from the Spam Allstars family.
First off…Spam Allstars present Rumberos de la 8. In December, Spamusica Records released this debut recording digitally. This month the CD will come out. Stay tuned for the record release party details and get your copy at any of the shows or online. Rumberos de la 8 is an all-star group of percussionists and singers hailing from Cuba and Puerto Rico, and born on the streets of Miami. They perform each week with Spam Allstars at their residency in Little Havana, FL at Hoy Como Ayer. Their debut recording features Boris Monterecy, Sonyalsi Feldman, Tomas Diaz, Mercedes Abal, Lazaro Alfonso, Joxi Caballero, Diosvany Boulet, Yoel del Sol, Eduardo Rodriguez, Jose Elias, J.J. Freire, & Ray Romero Jr. This is the first analog rumba recording out of Miami in over 20 years. It was recorded and mixed by Le Spam at City Of Progress Studio in N. Miami, FL between August 2008 – July 2009. Artwork by Charlie Rosario who created distinctive covers for Charlie Palmieri, Tito Puente and other artists on Fania, Coco and other 60's and 70's latin labels. Get more info from the links below.
Myspace:
Facebook:
Purchase it now:
Preview:
En Vivo:
And Spam Allstars play LIVE this week….
Thursday – January 14th – Hoy Como Ayer
2212 SW 8th Street
Little Havana, FL
9pm doors, ladies free and 2 for 1 drinks until 11pm
RUMBEROS DE LA 8 to kick off the night
http://www.hoycomoayer.us/
Friday – January 15th – Respectable Street
518 Clematis Street
West Palm Beach, FL
9pm show
http://www.respectablestreet.com/
Saturday & Sunday – January 16th & 17th – Green Parrot
801 Whitehead Street
Key West, FL
10pm show each night
http://www.greenparrot.com/
Thank you for using Soul Of Miami!