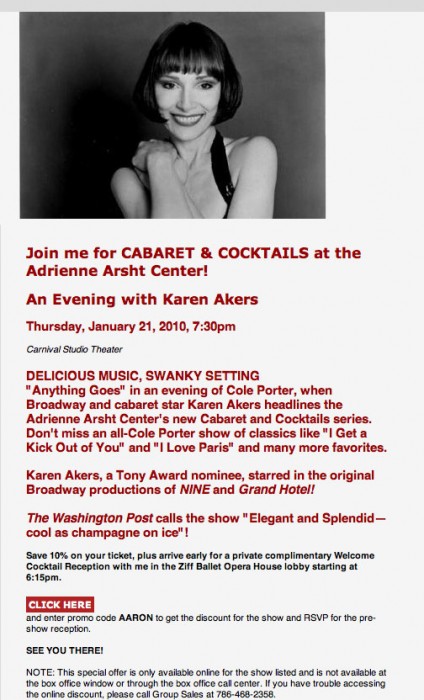 Aaron Resnick and Jeff Brook invite you to join us Thursday, January 21, 2010 for the Opening Night of CABARET & COCKTAILS at the Adrienne Arsht Center!
This special event features one of America's most arresting and successful concert and cabaret stars, Karen Akers, in an all-Cole Porter show of classics like "I Get a Kick Out of You" and "I Love Paris" for the Adrienne Arsht Center's new Cabaret and Cocktails series.
As part of the Opening Night festivities there will be a private 'Welcome Cocktail Reception' in the Ziff Ballet Opera House lobby starting at 6:15 pm with complimentary cocktails and appetizers.
The show itself starts at 7:30 pm at the Carnival Studio Theater. The Washington Post calls the show "Elegant and Splendid—cool as champagne on ice"!
To RSVP and get your tickets please call Leyda at 786.468.2358 or visit: www.arshtcenter.org/offer and log in using the promo code AJAX.