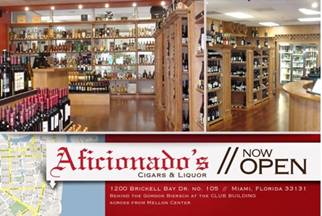 You are cordially invited to the first Aficionado's Preferred Client Wine Tasting.
Thursday January 14th, 2010 / 5:30pm-8:30pm
This evening, we would like you to enjoy a sampling of some of the finest selections from the Aficionado's Family Favorites. These personally selected vintages will enhance any occasion; a dinner with colleagues, a quiet glass with your significant other, or simply, good friends remembering good times.
Please RSVP. We're saving you a seat. Our neighbor Citadeli will be accommodating our guests with a reduced fixed price menu for dinner and will also allow you to enjoy our wines at their establishment.
Wine Selection:
2002 Californian Meeker Barberian Zinfandel
2008 Californian McManis Pinot Grigio
2008 McManis Petit Syrah
2007 Mulderbosch Sauvignon Blanc
2005 Plungerhead Zinfandel
Spirits: El Dorado 12yr
Your friends at Aficionado's Cigars & Liquor
1200 Brickell Bay Dr. Ste. 105
Miami, FL 33131
RSVP: aficionadosbrickell@gmail.com
On 12th and Brickell Ave, behind Gordon Biersch, and in front of the Mellon Financial Center