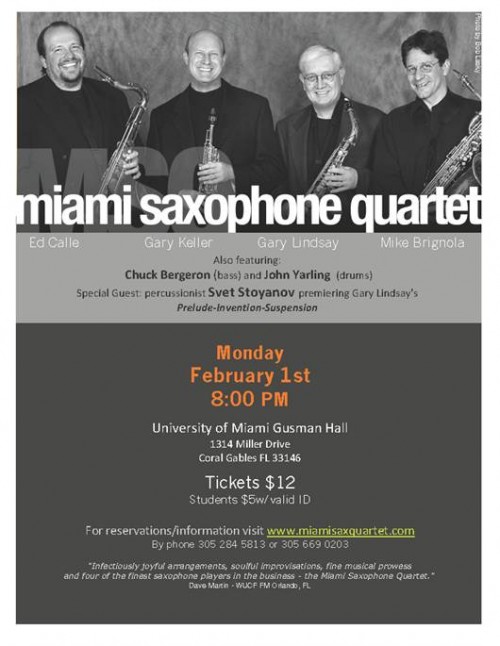 Miami Saxophone Quartet
Monday Evening February 1, 2010 @ 8PM.
Maurice Gusman Concert Hall
University of Miami
1314 Miller Drive (UM campus)
Coral Gables, FL 33134
http://www.music.miami.edu
(305)284-2438
Featuring guest appearances by:
John Yarling (drums), Chuck Bergeron (bass), and Svet Stoyanov (percussionist)
Tickets $12 (students $5 with valid ID*)
Reservations/info 305 284 5813 or 305 669 0203
The Miami Sax Quartet will be performing Monday evening, February 1st, 8PM at the University of Miami Gusman Concert Hall. Tickets are $12 ($5 students) and may be purchased at the door, or online at http://www.miamisaxquartet.com.
The quartet will be joined by bassist Chuck Bergeron, drummer John Yarling, and Svetlanov Stoyanov, the new professor of percussion at the UM Frost School of Music, who will be premiering Gary Lindsay's new piece Prelude‐Invention‐Suspension for saxophone quartet, bass, drums, and percussion.
South Florida saxophonists Gary Keller, Gary Lindsay, Ed Calle, and Mike Brignola have created a contemporary sound unique among saxophone quartets. Led by the award winning writing of Lindsay and Calle, the MSQ explores the realms of Jazz, Pop, Latin, R&B, and chamber music, performing both originals and their own arrangements of songs from a diverse array of musical legends, including John Coltrane, Paul Simon, Pat Metheny, James Taylor, Thad Jones, and Chucho Valdez. The quartet's recordings regularly land near the top of the jazz charts.
The quartet collaborates with Miami's top musicians to present performances of the highest caliber. A testament to the flexibility and wide-ranging appeal of the saxophone, an MSQ concert appeals to audiences of all ages and musical persuasions.
Visit the quartet on You Tube to see the group in action!