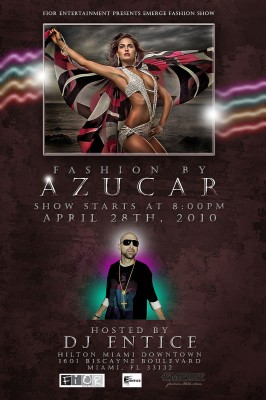 Fashion Trade Show to Showcase Emerging Brands
eMERGE Trade Show announces details for their April 2010 fashion trade show. This is a fashion trade show geared towards the hottest upcoming and emerging brands in streetwear, surf, skate and contemporary markets for men and women.
eMERGE Trade Show Schedule
Hilton Miami Downtown
1601 Biscayne Blvd
Miami, FL 33132
Tuesday, April 27, 2010
Tradeshow from 3p-10p
Meet and Greet with eMERGE Designers and Cocktails 3p-5p
Music Provided by DJ JMP 3p-5p
Music Provided by DJ KAOS 5p-7p
Music Provided by DJ T.A.T 7p-10p
After Party at Grass Lounge
Wednesday, April 28th, 2010
Tradeshow from 3p-10p
Music Provided by DJ Darian Del Farias 3p-5p
Music Provided by DJ T.A.T 5p-8p
Fior Entertainment Presents eMERGE Fashion Show and Music Provided by DJ Entice (WEDR/99 Jamz/Flo Rida's Official DJ) 8p-10p
April 27th join us for the Official eMERGE After Party at Grass Lounge, located at 28 NE 40th St, Miami, FL 33137
Visit their website http://www.grasslounge.com
April 28th Fior Entertainment Presents eMERGE Fashion Show, headliner Fashion by Azucar and music provided by DJ Entice (WEDR-FM / 99Jamz /Flo Rida's DJ) will begin at 8p. Make sure you don't miss this fashionable event!
eMERGE trade show is having its 1st annual event, which will be held in Miami, Florida on April 27 and 28th, 2010. The show will be held at the beautiful Hilton Miami Downtown, overlooking the intracoastal waterways and downtown Miami. eMERGE targets retailers that are in search of for the hottest apparel and clothing companies an outlet for the world to view their artwork.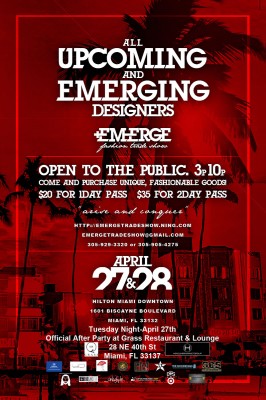 eMERGE is an innovative fashion trade show for upcoming and emerging brands, to showcase their collections to the best boutiques and retailers. Most conventional trade shows do not focus their attention on independent companies that are yearning for exposure in the fashion market. eMERGE is here to assist these brands in growing their business to become the next big "IT" FACTOR. Brands attending eMERGE are breaking barriers and aren't afraid to take risks to be a recognizable force in the market, and therefore, they will…."ARISE AND CONQUER"
Founded by two individuals who understand and have been in the same position as the brands that will attend eMERGE, so they understand their positions and know that they want to prosper if given the opportunity to do so. One of the founders runs a clothing company and knows how much is needed to run an effective brand. Constantly being put in a position to come up with obscene amounts of funds that was unobtainable to gain exposure. eMERGE will allow clothing companies to showcase their goods in a Metropolitan city for a low, cost effective price. Retailers will be introduced to brands that are usually overlooked at major trade shows. eMERGE will give them both a platform to meet in order to grow their businesses; to bring what is hidden into plain view.
eMERGE is pleased to announce that a portion of all proceeds will benefit the American Cancer Society and Kids off Streets.
Current list of brands attending eMERGE
3rcspages.com
Absolute Monarchy
Apparel Reserve
BAYMAAC Clothing
Bird Club Clothing
Epic Glory Clothing Co.
Evolution for Humanity
Fashion by Azucar
FMF Collection
Funkey Flash Back Designer Apparel
Jbon Clothing
JLR
Julie Zihal
Lila Nikole Swimwear
Miss Magou
NVEuro Clothing
SunKissed Curls Beauty
Time to Learn Novel and T-Shirts
Click here to see the latest list.
For additional information please visit:
http://emergetradeshow.ning.com