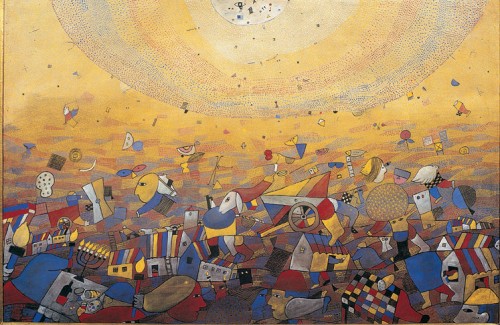 The Frost Art Museum Presents The Fantastic World of José Gurvich
The Patricia & Phillip Frost Art Museum presents The Fantastic World of José Gurvich, a new exhibition by renowned Uruguayan artist José Gurvich, on Wednesday, January 20 at 6pm. This event, free and open to the public, will take place at The Frost Art Museum at FIU's Maidique Campus located at 10975 SW 17 Street, Miami, FL 33199 .
"The Frost is honored to bring this exhibition to a South Florida audience," said Dr. Carol Damian, director & chief curator of The Frost Art Museum.
José Gurvich was an extraordinary artist whose life bridged distant places and cultures. When he was six years old his family immigrated to Uruguay. His pictorial language developed from the diverse environments and art forms he was exposed to: intimate domestic scenes in Montevideo, rural life and religious festivities in Israel, New York's crowds and vibrant urban views. Each element in his paintings is carefully chosen from lived experience and condensed by his constant search for the fundamental and essential. His art speaks directly to the soul, addressing the need to see reality through the eyes of the spirit. In his work Gurvich paired the fantastic and the everyday in a way that appears effortless.
Also opening January 20-
In Body and Soul- The Performance Art of Maria Teresa Hincapié. The show, curated by Francine Birbragher, examines the work of Maria Teresa Hincapié, a well-known Colombian performance artist.
Women's Work/Men's Work: Labor and Gender in America-The Wolfsonian Teaching Gallery at The Frost Art Museum is a collaboration between The Wolfsonian-FIU, The Frost, and FIU faculty. The exhibition serves as a resource for teaching and learning. The support from the Andrew W. Mellon Foundation will provide an opportunity for FIU faculty to collaborate with staff from both museums to organize small exhibitions from The Wolfsonian collection that will be exhibited within The Frost Art Museum's gallery space.
The exhibit, curated by Cecilia de Torres, is on loan from El Museo Gurvich in Montevideo, Uruguay and will be on view through April 2010.
Image Credit Above: José Gurvich, La Creación en colores puros, 1968, Tempura on Paper, 14 x 21 inches
About the Frost Art Museum – Florida International University
The Frost Art Museum opened its current 46,000-square-foot state of the art building in November, 2008. Over 30,000 people have visited The Museum in its new building since its opening in November, 2008. Admission to The Museum is always free. The Frost is an AAM accredited museum and Smithsonian affiliate and is located at 10975 SW 17thSt across from the Blue garage and adjacent to the Wertheim Performing Arts Center on the Modesto A. Maidique Campus. Hours of operation are Tuesday through Saturday 10 a.m. – 5 p.m. and Sunday noon-5 p.m. Closed on Mondays and most legal holidays. For more information, please visit thefrost.fiu.edu or call 305-348-2890.