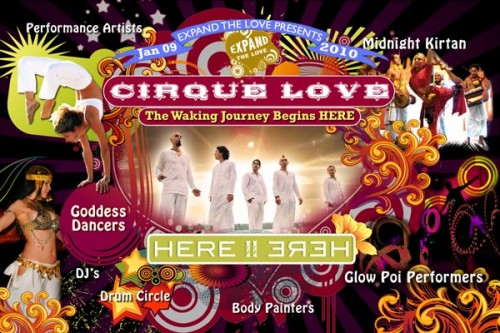 Event Rhythm
is a proud supporter of
Cirque LOVE: The Waking Journey Begins Here
Saturday, January 9th, 2010
Greetings, I hope you will join us at Cirque LOVE!
This spectacular event features the farewell performance of Here II Here, the South Florida musical leaders of consciousness, before they leave on their six-month U.S. Tour.
Come play and dance in a fantasy atmosphere, complete with cirque performers, belly dancers, glow poi, midnight kirtan, dj's, a drum circle, body-painted goddesses dancing all around…
Be a part of the spectacle – costumes and creative clothing welcome and encouraged.
The producers of this extravaganza, Expand The Love, have created this event to bring many communities across South Florida together in unity, to celebrate our oneness and Expand the Love throughout our local and global community.
Come be a part of the fun and consciousness, celebrating the magic in all of us ~
Event begins at 8pm
Culture Room – 3045 North Federal Highway Fort Lauderdale, FL 33306
General Admission – $19
VIP Reception begins at 6:30pm – $44
Come early at 6:30pm to join us for a vegetarian buffet dinner, private performances (including Here II Here), mingling with performers and dancers, and a free autographed copy of Here II Here's new cd.
We're anticipating a sellout!
Tell your friends, and purchase your tickets now!
http://ExpandTheLove.com
Elias Josephz; Ringmaster of the All Star Circus
Body Art by Keegan
Circus Performers
Goddess Belly Dancers / Goddess Studio & Store
Sacred Lotus Mudra Dance / Lisa Lumiere
Special Glow Poi Performance / Pyro Fusion
Feminine Tiger African Dance / Monica Craun
A Bollywood Dance Medley / Jaya Vaswani
Performance Glow Art / Dashama
Midnight Kirtan / Lila Kirtan
Body Art by Troy /
Performance Artists – Drum Circle
Hookah Homestead
+ PVM DJs Spinning Some World Music Infused
Downtempo – Chillout – Dub
Indovisual
Jebus
FTG
Okulus Anomali