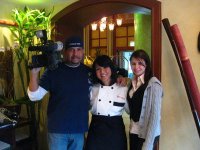 Bite with Belkys Watch Watch Party
Wednesday, January 6 at 5:30pm
WSVN's "Bite with Belkys" will feature Atchana's East/West Kitchen this Wednesday, January 6th. Join us for the Watch Party at 5:30pm, at Atchana's, inside The Mutiny Hotel. Don't worry if you get there late, we'll be showing it throughout the night!!
We'll have that Happy Hour feeling, with complimentary hors d'Å"uvres and drink specials all night to celebrate!
Also, don't miss your chance to win a complimentary One Night Stay here at The Mutiny as we raffle off a gift certificate at this fun event.
Event Info
Atchana's East/West Kitchen
Inside The Mutiny Hotel
2951 South Bayshore Drive
Coconut Grove, Florida 33133
Wednesday, January 6, 2010
5:30PM-8:00PM