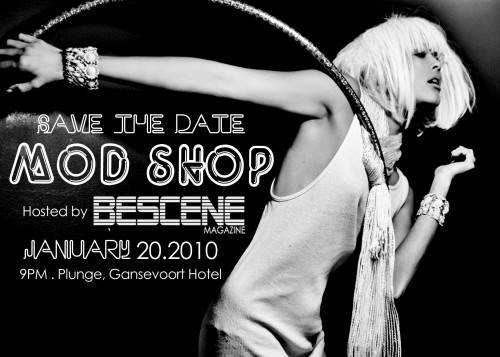 MOD MEDIA PRESENTS MOD SHOP AT THE GANSEVOORT SOUTH BEACH A MONTHLY SHOPPING EVENT & LIVE PHOTO SHOOT HOSTED BY BESCENE MAGAZINE
"beScene Fashionably!"
January 14th, 2009. Miami, FL. — Join us as we present MOD SHOP a fashionably unique shopping experience at Plunge Gansevoort South Beach. Guests are welcomed to come and shop the latest trends for the New Year, featuring amazing discounts! Hosted by beScene Magazine, a new online fashion publication, MOD SHOP presents a bevy of unique upcoming designers, top boutiques, bejeweled accessories, and sexy dresses! Participants include: Dimpled, Electric Couture & Electric Boutique, Fashion District, Movilos Designs, and One Love Brand.
For this January, MOD SHOP will be working exclusively with beScene Magazine to create a LIVE impromptu Photo shoot at the Plunge rooftop featuring photographer Nicholas Pineiro, and our participating designers/boutiques. MOD SHOP will let you re-invent your look, stay within budget, and most of all give you that signature piece your friends will be gushing over for years to come!
For more information on the MOD SHOP, its designers, and fashion show or to RSVP please send your inquiries to Christine@modmediamiami.com
Event Details:
Who: MOD Media, Gansevoort South Beach
What: MOD SHOP Event, Trunk Show, LIVE Photo Shoot
Where: Plunge at the Gansevoort South Beach
2377 Collins Avenue, Miami Beach
When: Wednesday, January 20th, 2009 at 9:00pm
About Participants:
beScene Magazine www.bescenemag.com
beScene Magazine is an online publication set to target the creative lifestyles of our devoted readers. beScene Magazine is moving towards a more environmentally conscious concept by making the magazine a paper free publication. With the rapid growth of today's internet system, paper back publications will soon come to a screeching halt. Our main focus is to cover all aspects of our creative lifestyles; from well-known artists and established entrepreneurs to contemporary original concepts yet to hit mainstream media. We are committed to introducing some of the industries most talented people to the scene so their work can be promoted and followed thereafter by our readers.
Dimpled
Dimpled was designed with the idea that we are all unique and we enjoy, and embrace it. All the pieces are strictly one of a kind; no one will own the same piece!!! They are handmade pieces filled with love an. They are made with all kinds of materials ranging from 24K gold filled, sterling silver, semi precious stones, base metal, found objects, recycled materials and different kinds of fabrics. Each one is an adventure waiting to be worn and shown off, and believe me they will all get you noticed in all the right ways.
Electric Couture & Electric Boutique
Miami's premiere location for all things stylish! Electric Couture & Electric Boutique are your one stop shop for the perfect outfit. Business partners Yanelle Borbolla, and Ileana Lima have searched the fashion capitals seeking out the top looks of the season, and their keen sense of style keeps things fresh and always fashion forward. Glamorous, glitzy, trendy, and always edgy, these sister boutiques offer local fashionistas a place to call home.
Fashion District
Fashion District focuses on providing all the latest trends at affordable prices through a personal shopping experience. It's like having your own personal shopper! Fashion District sells by appointment and through shopping parties where clients can host their own party at the convenience of their home with all their friends. Fashion District is available for a variety of events such as bridal showers, bachelorette parties, among others. Please visit www.facebook.com/myfashiondistrict for a peek at our inventory.
Movilos Designs
Movilos Designs provides hand made exclusive innovative products and services.
Our unique and exotic products consist of custom knobs/exclusive jewelry made with semi & precious gems, wall art, and artistic mobiles. In addition to our products, we specialize in commercial & residential interior decorating & home staging. Our talented and creative designer's main goal is to go above & beyond our client's expectations.
One Love Brand www.onelovebrand.com
One Love Brand features a mixture of classy, hippie, and funky unique styles. Their latest collection carries bracelets, rings and hair accessories all to match our ever-changing moods. Designing your peace!