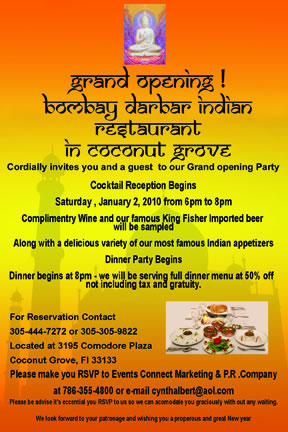 BOMBAY DARBAR INDIAN RESTAURANT IN COCONUT GROVE IS PLEASED TO ANNOUNCE IT'S GRAND OPENING
Saturday, January 2, 2010 – at 6pm to 8pm BOMBAY DARBAR INDIAN RESTAURANT located at 3195 Commodore Plaza, will host a Grand Opening Cocktail reception invitation celebrating their new location in Coconut Grove. Served will be complimentary wine, King Fisher Imported beer, and delicious appetizers. After 8pm the restaurant will be serving dinner with a 50% discount off the entire bill not including tax and gratuity.
The Owners Danny & Nan both originally from Bombay India have been in the Restaurant Industry for over 25 years. They have managed and worked in some of the most exclusive properties in the world for example The Taj Hotel in India, the Ritz Carlton and The Hilton Hotel.
The Master Chef has over 21 years mastering the fine techniques of Indian Cuisine some of his favorite dishes are Chicken Tikka Masal, Chicken Makhani, Lamb & Chicken Vindaloo to name a few. The restaurant comfortably accommodate 50 seats In-door and Out-door.
We are so excited to be opening our new restaurant here in Coconut Grove says Owner, Danny, with the good news about the Playhouse re-opening and also the new Muvico theatre coming to Coconut Grove we feel the timing is perfect.