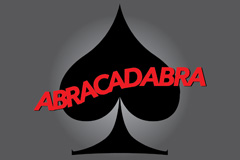 Third Annual
Abracadabra
Fund-raising Art Exhibition and Raffle
Jan. 23 – Feb. 19, 2010
Opening Reception: Fri., Jan. 22, 6-9 pm
Raffle Event: Fri., Feb. 19
Now in its third year, this exhibition and fund-raiser is comprised of a selection of approximately 100 works in all media by artists who have been invited to participate. The third annual Abracadabra culminates with a raffle of all of these outstanding, donated art works by various artists. All available art will be on exhibition prior to the evening of the raffle, affording an opportunity to preview before the main event!
Full bar (donation) and light refreshments will be served. Cost: free for members, $10 for non-members.
Click here for more information.
$375 – One raffle ticket and admission for two to event
$700 – Two raffle tickets and admission for four to event
$1000 – Three raffle tickets and admission for six to event
$30 – buys general admission for one person to the event (this does not include raffle participation).
Each raffle ticket purchased will guarantee the bearer to go home with a work of art valued at greater than the ticket price. Raffle tickets are available in advance and at the door if still remaining.
At 8 pm, all ticket holders' names will be randomly drawn, one by one. When your name is called, you choose any work of art that has not yet been selected. If you are picked first, you have first choice of all the artwork, the second name picked gets second choice, and so on – everyone is a winner! Participating artists are by invitation, selected by the Center's curator and the Event Committee. Proxy bidding will be available for raffle ticket holders unable to attend. Complimentary beer, wine, cocktails, hors d'oeuvres, and live entertainment.
Art and Culture Center of Hollywood
1650 Harrison St.
Hollywood, FL 33020
954. 921. 3274
954. 921. 3273 fax
ArtAndCultureCenter.org