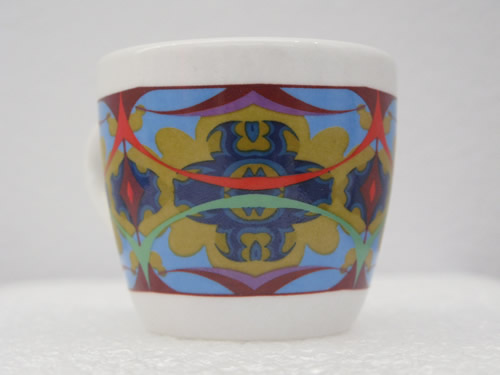 Bass Museum Of Art And Café Bustelo Commission Limited-Edition Demitasse Cup
Created by visual artist Dzine
MIAMI BEACH, FL (November 2, 2009) – Bass Museum of Art and Café Bustelo announce their partnership to commission a yearly series of numbered, limited-edition demitasse cups created each year by a different contemporary visual artist of Hispanic background.
As organizations with rich historical pasts and vibrant futures, Café Bustelo and Bass Museum searched for an artist whose work reflected this energy. For the first cup in the series, they recruited Chicago-based artist Carlos Rolon (a.k.a. Dzine), whose work is inspired by beauty, desire, pattern, op-art, and the juxtaposition of highbrow and Chicano lowrider Kustom Kulture. The artist himself grew up drinking this traditional Hispanic-style espresso. In fact, his mother to this day orders a monthly supply from Miami, making him a natural fit for the project. The demitasse cup reflects his signature manifestation of bold colors and patterns.
While the cups offer an opportunity to take a piece of art and culture home, the Bass Museum also invited Dzine to create an all-over, site-specific wall painting presented in their new café and lounge. The café project is part of Dzine's solo exhibition at the Bass Museum, which includes new sculpture, paintings and installations made specially for the exhibition.
The Dzine demitasse cups — a perfect holiday gift — will be available exclusively at Bass Museum of Art and online at www.bassmuseum.org, starting November 28. Each cup retails for $20. All proceeds from sales will benefit Bass Museum of Art.
About Dzine: From site-specific wall installations, to his custom Cadillac Fleetwood and crystal encrusted sculptures and paintings, Dzine's prolific manifestation of colors, patterns, textures and sound fuse into a modern phenomenon that reveals thought-provoking combinations. Continuously inspired by Lowrider and Kustom Kulture, Dzine has been able to bolster the semantics of this genre by stretching the boundaries further with his traditional studio practice and bringing never- before-seen products to the table that contribute a unique vernacular to contemporary art.
About Bass Museum of Art: Located in the heart of Miami Beach, the Bass Museum of Art collects and exhibits some of the world's finest art from the past through the present. Founded in 1963 when the City of Miami Beach accepted a gift of 500 works of art from collectors John and Johanna Bass, the museum has since doubled in size to 35,000 square feet, including new galleries and outdoor exhibition spaces. In addition to housing one of the best collections of Renaissance and Baroque artwork, Bass Museum's temporary exhibitions for 2009/2010 curated by Executive Director Silvia Karman Cubiña include Dzine; Where Do We Go From Here?/Selections from The Jumex Collection; and The Mummy Project. The Bass Museum also offers lectures, film and video series, music and dance performances, open houses, free family days, and educational symposia on a regular basis. www.bassmuseum.org
About Café Bustelo: Rowland Coffee Roasters has a history dating back to 1930s of producing espresso in the traditional Hispanic style. With a family tradition of creating savory and aromatic coffee, the family believes the best coffee is achieved through quality beans and roasting perfection. Today, Café Bustelo is one of the leading and most recognizable coffee brands in the world and is part of Rowland Coffee Roasters, Inc. parent to over 12 different coffee brands brewed in the company's state-of-the-art facility in South Florida. Café Bustelo is available throughout the United States and the Caribbean at most supermarkets and grocery stores, as well as online at www.cafebustelo.com and www.javacabana.com.