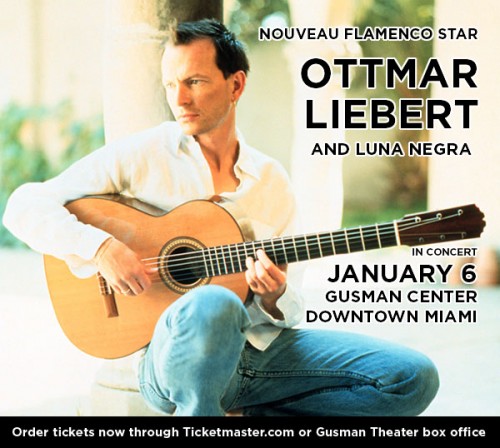 Ottmar Liebert and Luna Negra in concert
January 6th, 2010 — 8 PM
Gusman Center for the Performing Arts, 174 E Flagler Street, Downtown Miami
Tickets on sale through Ticketmaster outlets or the Gusman box office
RF members, call the office for direct ticketing: (305) 672-5202
The multi-faceted, Grammy-nominated, platinum-selling guitarist performs at Miami's Gusman Center on January 6th, in support of his much anticipated new CD La Semana. His signature sound, nouveau flamenco, is a beautiful instrumental modern arrangement of classical Spanish guitar and jazz fusion.
Visit Ottmar Liebert online.
This concert is presented by AEG Live and The Rhythm Foundation.