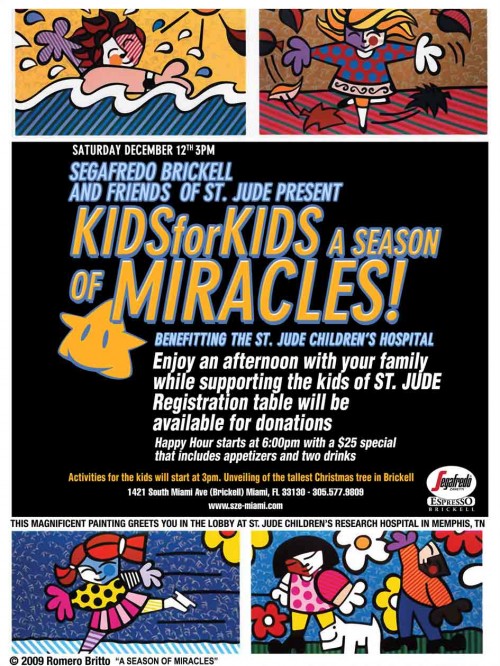 SATURDAY, DECEMBER 12th, 3PM
As the Holiday season approaches, we are reminded of our many blessings as well as the challenges faced by other families. This time of year is also symbolic of hope and it is in this spirit that we have joined forces this year with St. Jude Children's Research Hospital with the support of Romero Britto and Saks Fifth Avenue and many others to host "Kids for Kids- A Season of Miracles", a fundraiser event benefiting St. Jude.
With the goal of instilling benevolent values and inspiring the next generation to give, the "Kids for Kids" is also an opportunity for our children to bring a gift for the children of St. Jude. To ensure that gifts are appropriate for the special needs of many of these children, please be sure to adhere to the gift guidelines below. Although the primary goal is to raise money for the hospital, we ask that you encourage your children to bring a gift to donate. It is a small price for an invaluable and rewarding life lesson.
This is a family event and activities for the little ones will include photos with Santa Claus, face painting, complimentary cotton candy and popcorn, entertainers, toys, games for children, live band playing Christmas music, and will end with the official lighting of the Segafredo Christmas tree.
This is an extraordinary fundraising effort to raise money for St. Jude. St. Jude will hold an onsite SILENT AUCTION featuring products from a variety of sponsors including:Saks Fifth Avenue, Genius Jones, Milan Kitchens, Venue Magazine, Segafredo Brickell and many more. In addition to this, St. Jude will set up a registration table where they will be accepting donations by checks and cash with 100% of the proceeds going directly to St. Jude Research Hospital
The event will take place on Saturday, December 12th starting at 3 PM at Segafredo Brickell, 1421 S. Miami Avenue in Brickell.
About St. Jude Children's Research Hospital:
The mission of St. Jude Children's Research Hospital is to advance cures, and means of prevention, for pediatric catastrophic diseases through research and treatment. Consistent with the vision of its founder Danny Thomas, no child is denied treatment based on race, religion or a family's ability to pay.
Supporting sponsors for the fundraiser:
Saks Fifth Avenue: www.saksfifthavenue.com
Romero Britto: www.britto.com
Milan Kitchens: www.milankitchens.com
Miami Beach Cinemateque: www.mbcinema.com
The Patton Group: www.thepattongroupinc.com
Venue Magazine: www.venuemagazine.com
Good Times Party Rentals: www.goodtimespartyrental.com
The SER Institute: www.theserinstitute.com
Grace All Occasions
Floral Palace
Segafredo Brickell
1421 S Miami Ave
Miami, FL
305-577-9809
Join us on Facebook:
www.facebook.com/SegafredoBrickell
www.facebook.com/SegafredoEspanolaWay