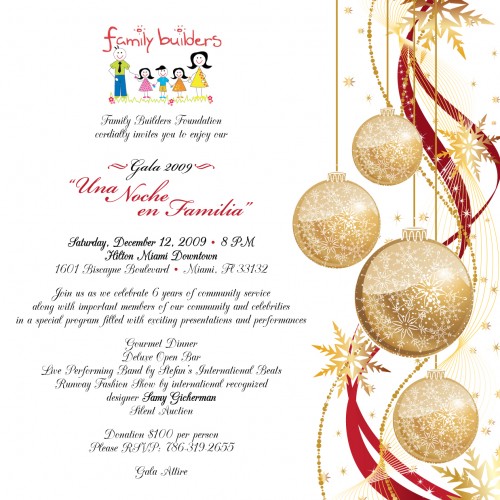 Family Builders USA will host its 2nd Annual Gala,
"Una Noche en Familia,"
this Saturday December 12th at 8:00 PM at the Hilton Miami Downtown,
to benefit its social programs and to recognize the work of its tireless supporters during the organization's six years of commitment to South Florida.
Family Builders USA announced its 2nd Annual Gala, "Una Noche en Familia," to be held on Saturday December 12th, at the Hilton Miami Downtown. Celebrated with great success since its inaugural year, this year's gala celebrates Family Builders USA's six years of community service helping families in Miami.
With "Una Noche en Familia," Family Builders USA aims to raise funds for its South Florida assistance programs aiding victims of domestic violence, child abuse, alcoholism and drug addiction, offering marital therapy and seminars as well as immigration and legal assistance, and helping the disadvantaged meet basic needs. The Office of the Mayor of Miami-Dade County, the Honorable Carlos Alvarez, will commemorate this special occasion by issuing a proclamation declaring December 12 "Family Builders USA Day."
After walking a fabulous Red Carpet along with local and international celebrities such as Fanny Lu, Ariel López Padilla, Fernando Arau, Poncho De Andas, Leonardo Rocco, Rodner Figueroa, Miguel Varoni, Catherine Siachoque, Javier Ceriani, Vanessa Hauc, Raúl González, Angélica Vale, Michelle Vargas, Laura Ferretti, Greilys Gil, Maritza Rodríguez, Tanya Charris and the hosts of Paparazzi TV as well as esteemed politicians such as the State Representative Julio Robaina, the City of Miami Commissioner, Mark Sarnoff, the North Miami Mayor, Honorable André Pierre, all guests will enjoy a VIP Reception with exclusive entertainment including an energizing performance by the Venezuelan singer Marger who brings her unique electro acoustic sound to the Gala. After the VIP Reception, guests will continue to enjoy a unique culinary experience, while they have the opportunity to participate in a Silent Auction featuring fine arts, exotic travel destinations, and sports memorabilia.
This elegant gala will also serve as a fitting venue for the launch of the Autonomous University of the Caribbean's new North Miami campus, the first of its kind in the U.S. for a Colombian university. The Office of the Mayor of North Miami, the Honorable André Pierre, and the Board of Commissioners, will be on hand at the Gala to commemorate the landmark opening by issuing a special proclamation declaring November 18 "Day of the Autonomous University of the Caribbean."
The evening will be complete with an elegant runway show by celebrity fashion designer Samy Gicherman, the soulful rhythms of the Stefans International Beats Orchestra, the participation of an angelic children's choir, and many other surprises in a fun-filled night of networking for a good cause.
ABOUT FAMILY BUILDERS USA
Family Builders USA is a Florida non-profit foundation [501(c)(3)] that aids Miami-Dade County families in crisis free of cost, providing assistance through counseling conferences and therapies with the support of a group of psychologists, doctors, social workers, and volunteers. Alfredo Santamaria, Chairman of Family Builders USA, counts on strategic alliances with the Centers Associated of Personalized Assistance (CAPA), which focuses on the specific needs of the family to reach comprehensive rehabilitation. To learn more about this organization, please visit their website: www.familybuildersusa.org
For more information about the second annual "Una Noche en Familia," please call 786.470.4664 or R.S.V.P. by calling 786.319.2655.