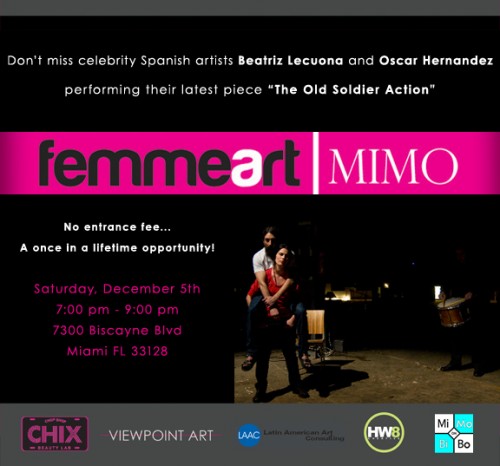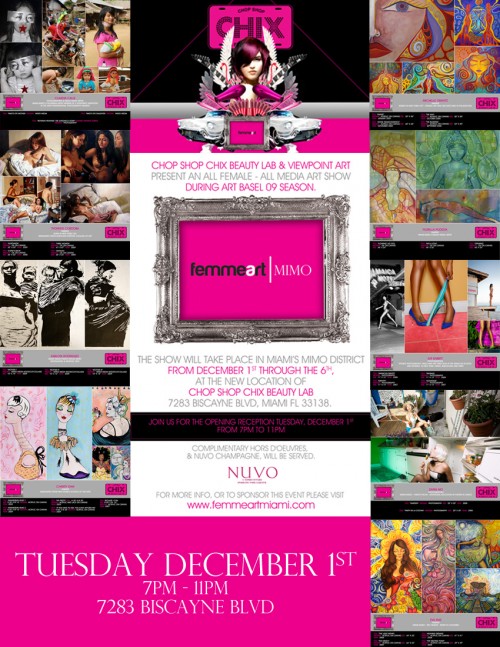 Art Basel Season 09 FemmeArt present Performance Art Night with celebrity Spanish artists Beatriz Lecuona and Oscar Hernandez
Saturday, December 5th
7:00 pm – 9:00 pm
7300 Biscayne Blvd
Miami FL 33128
NO ENTRANCE FEE * FREE PARKING
After ten years of working together, Spanish artists Beatriz Lecuona and Oscar Hernandez present their latest performance act "The Old Soldier Action" which is part of a series that include pieces in other mediums like installation, drawing and sculptures.
This long work in progress has been presented recently in international events in Europe, Latin America and USA.
The series portraits a powerful drama between male and female which spectator must confront without fears. The actions performed in this work present within itself a reflective space concerning the emotional, social and political role of women.
This event, which questions the relationship between domination and submission, is been sponsored by Chop Shop Chix Beauty Lab, Viewpoint Art, Latin American Art Consulting, Programa Pasajero Cultural, HW8 Creative and MiMo District.