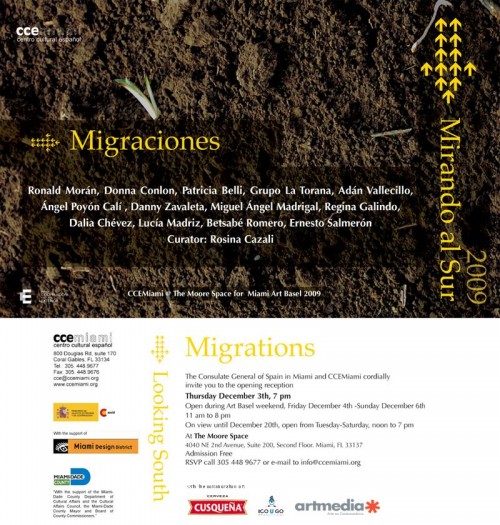 BEYOND CCEMIAMI. MIGRATIONS: LOOKING SOUTH.
START DATE: 12-03-2009
END DATE: 06-20-2009
HORARIO: 7pm.
Migrations: Looking South
Opening, Thursday December 3 @ 7pm
Program to promote Latin American creativity
At Moore Space
4040 NE 2nd Ave. Miami, FL 33137. (Suite 200, Second Floor).
Free Admission
RSVP 305 448 9677.
Open during Art Basel weekend, Friday December 4th – Saturday December 6th. 11am to 8 pm
On view till December 20th, open from Tuesday-Saturday, noon to 7 pm.
Migrations: Looking South, an outstanding selection of
Central-American art curated by Rosina Cazali.
Artists: Ronald Morán (El Salvador),
Donna Conlon (Panama), Patricia Belli (Nicaragua), Grupo La Torana (Guatemala), Adán Valdecillo (Honduras), Ángel Poyón Calí (Guatemala), Danny Zavaleta (El Salvador), Miguel Ángel Madrigal (México), Regina Galindo (Guatemala), Dalia Chévez (El Salvador), Lucía Madriz (Costa Rica), Betsabé Romero (Mexico) and Ernesto Salmerón (Nicaragua)
Migration is the movement of people or human groups from their place of origin to other regions. This movement may be voluntary, as is the case with legal emigrants with work permits, or involuntary and ensuing from the lack of job opportunities; it may be massive or as a result of armed conflicts or due to ethnic exclusions, which are escalating now in a significant and disturbing manner.
Migration processes can be analyzed from different points of view including the economic, political, demographic and social angles. They are seen as collective processes, but they are also individual experiences. All perspectives are indispensable to achieve an understanding of this highly complex phenomenon. The exhibition Migrations: Looking South proposes a new standpoint for analyzing the Central-American migration process through a rarely explored outlook: culture
Migrations: Looking South was organized by Guatemalan curator Rosina Cazali and includes several artists from the region who through their creativity would approach de deeper raison d'etre of the initiative. In her own words, "artists bring us closer to the reflections activated by their contexts, their personal preoccupations and the ways of understanding and expressing the meaning of those exoduses that are part of our countries daily life."
Migrations: Looking South will be housed at The Moore Space thanks to the collaboration of Miami Design District. It will open on December 3rd during Art Basel Miami.