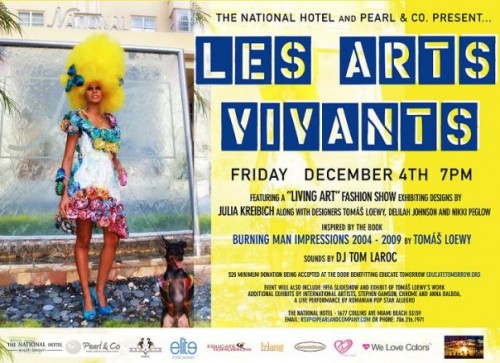 Art Basel: Les Arts Vivants
Presented by The National Hotel and Pearl & Co.
Proceeds will be donated to Educate Tomorrow
DATE: Friday, Dec. 4th
TIME:7 PM
LOCATION: The National Hotel
1677 Collins Ave Miami Beach
TICKETS: $20 minimum donation at the door
RSVP REQUIRED: (305) 374-3751
french@educatetomorrow.org
Don't miss this spectacular display of fashion and art that will rock Art Basel Miami!
At 8:30pm there will be a "living art" fashion show designed by Julia Kreibich along with fellow designers Tomas Loewy, Delilah Johnson and Nikki Peglow….using recycled materials such as newspaper, envelopes, fliers and found objects. ( see above invite) The show is inspired by Tomas's book 'Burning Man Impressions'.
The night will also include: Slide show and exhibit of Tomas' work
Exhibitions by: Stephen Gamsen Chrome Anna Balboa Andrea Franco Doug Peterson Edgar Velásquez Florentina West Ramiro Medina Abel quintero Fuente
-Performance dance piece by Cameron Gagne
-Music by Romanian popstar Allegro and sounds by DJ Tom Laroc
-Additional performance elements throughout the evening
-Silent Auction with items donated by artists and fashion companies
About: Educate Tomorrow, Corp. is an international, nonprofit, certified 501(c)(3) organization. All over the world, poverty denies children, as well as adults, the promises of a better tomorrow. Forgotten by society and social welfare programs, children born into poverty are trapped in a cruel and often violent cycle that frequently continues for generations. Lacking the inspiration, confidence, knowledge, and means to change, entire families are lost to the cycle of hopelessness.
Educate Tomorrow believes that the best way to end the cycle of poverty is through education. Our mission is to make education an attainable goal for the most disadvantaged in our world, so that all may be afforded the possibilities that can be achieved through learning. We strive to reach out to these individuals and provide them inspiration, guidance, and support and lead them on the path of life-long learning.
Educate Tomorrow's primary mission in the US is to provide one-on-one educational mentors to foster care children that are turning 18 and "aging out" of the system. Since its founding in 2003, Educate Tomorrow has successfully implemented its mentoring programs, education programs and life skills camps across the nation. Additionally, it has reached internationally by continuing to support the work of it's founders who established one of the first local language primary schools, adult literacy programs and boarding schools in the remote and impoverished village of Kabey Fo in Niger, West Africa.