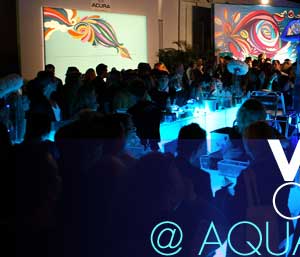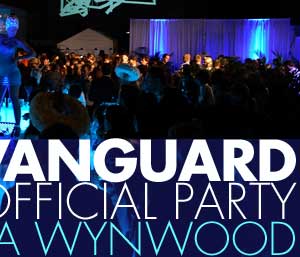 Vanguard Official Party at Aqua Art Miami
Thursday, December 3rd
8:00-11:00pm
Aqua Art Miami
42 NE 25th Street
Miami, FL 33137
Complimentary cocktails proudly provided by Campari and other beverages by Kim Crawford wines and water by One Natural Experience
Sounds by Ray Milian and Off The Radar.
Official Party will also feature a special presentation by Overthrow.
Gen Art would like to invite you to celebrate the Official Party for Vanguard @ Aqua Art Miami on Thursday, December 3rd during Miami Art Basel. Gen Art is partnering with Aqua Art Miami and bringing it's Vanguard New Contemporary Art Fair to Aqua Art Miami – Wynwood, a contemporary art fair featuring 50 of the best galleries from around the world. Gen Art will bring to Aqua a group of 8 galleries and artists defining the New Contemporary art movement. Together the combined talent of both organizations and the supporters from both fairs will make for one of the best art experiences to be found at this year's Art Basel Fair.
Vanguard @ Aqua Art Miami runs from Thursday morning, December 3 through Sunday, December 6. There will be a VIP Preview Brunch the morning of December 3rd, 10am – 1pm, which will be open to Associate Producer & Higher Level members.
Opening Party Tickets:
Platinum & Higher Level Members: 2 complimentary tickets
Silver Members: $15 / ticket
Non-Members: $25 / ticket
At Door: $30 for Everyone
Ticket purchases also include complimentary access to Aqua Art Miami from Dec 3 – Dec 6
Ticket purchases and Platinum and higher level members will also receive a customized GelaSkins iPhone removable cover with artwork by Nathan Spoor, Vanguard exhibiting artist
Preview Brunch Reception & VIP Pass to Fair:
Producer Level Members: 2 complimentary passes
Click here for more information and to view the participating Vanguard galleries
Guests must be 21+. Invitation is non-transferable.
GET TICKETS
Thank you for using Soul Of Miami!