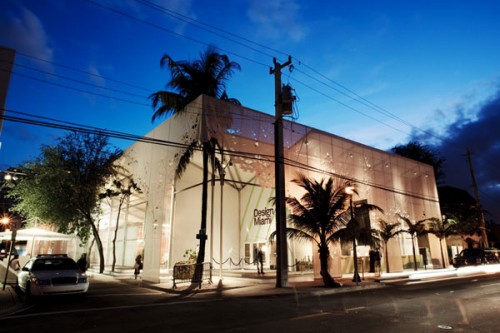 Design Miami/ 2009
Design Miami/ is the global forum that brings together the most influential dealers, collectors, designers, curators and critics from around the world in celebration of design culture and commerce. Inspired by the galvanizing effect of Art Basel Miami Beach, the founders of Design Miami/ set out to create a design fair unlike any other that came before. They envisioned a new commercial and cultural forum that would capture the thriving general interest in design and elevate appreciation for limited-edition, experimental and historically significant design work, presented within an energetic, visually striking environment. No other design fair had ever attempted such a feat. From its inception, Design Miami/ was intended to be more than just a marketplace for high-end design.Two unique shows are held each year: Design Miami/, every December in Miami, and Design Miami/ Basel every June in Basel, Switzerland.
At the core of the Design Miami/ forum is a marketplace for limited-edition design, amid which the most reputable international design galleries present curated exhibitions of museum-quality furniture, lighting and objets d'art, attracting the highest level of private and public collectors of historical and contemporary design. The galleries invited to exhibit in Design Miami/ deal mainly in exceptional design objects from the advent of Modernism (circa 1900) to the present day, with select galleries specializing in outstanding 18th and 19th century antiques. Design Miami/ favors objects that contribute to the discourse of design history, vanguard contemporary culture and sophisticated design collecting.
This December, Design Miami/ introduces a new layer of programming dedicated to finger-on-the-pulse fresh and experimental design.
Design On/ Site showcases small-scale yet high-level exhibitions of new work by individual designers or studios. These focused exhibitions provide an impactful snapshot of the designer's vision, situating the new work within the larger contexts of the designer's overall career and within contemporary design culture.
Design On/ Site provides a platform for contemporary design innovation by supporting the relationships between patrons and creatives that drive the production of limited-edition design.
Public Hours of Admission
2-5 December 2009
11am-7pm
VIP Opening
By invitation only
Tuesday /1/ December 2009
Collectors Preview/ 3-6pm
Vernissage /6-10pm
Nocturne
By invitation only
Thursday/3/ December 2009
7-9pm
Design Miami/ Temporary Structure
NE 39th Street & 1st Court
Miami USA