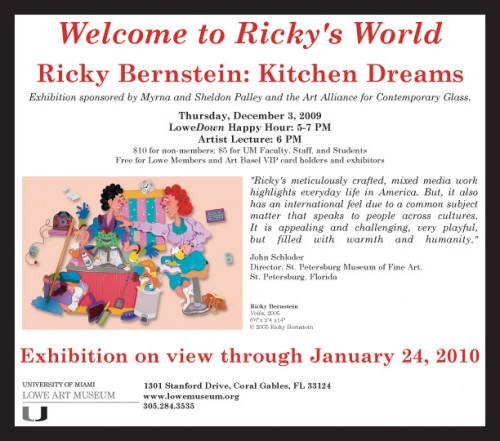 WHAT: "Kitchen Dreams" – Works in Glass by Ricky Bernstein
Exhibition sponsored by Myrna and Sheldon Palley and the Art Alliance for Contemporary Glass.
Meet the glass artist Ricky Bernstein at a cocktail party on Thursday, Dec. 3.
WHEN: Thursday, December 3, 2009, 5-7pm, part of ArtBasel/Miami Beach
Artist Tour & Presentation: 6 pm
WHERE: Lowe Art Museum, Coral Gables
1301 Stanford Drive, University of Miami campus
INFORMATION: (305) 284-3535 or visit www.lowemuseum.org.
Social commentary on Exhibit at Palley Pavilion
at ArtBasel/Miami Beach, December 2009
"Kitchen Dreams" –
Works in Glass by Ricky Bernstein
Considered a social satirist and visual storyteller, studio glass artist Ricky Bernstein draws the viewer into his larger-than-life cartoon dramas – a true slice of Americana.
Berstein's work has captured those moments of frustration with the minor mishaps of modern life in oversized vibrantly colored glass cartoon wall reliefs. His blown sheet glass of painted commercial glass combines aluminum, wood, plastic, acrylic paints, color pencils and other mixed materials to create assemblages that are humorous social satires.
One man plays tug of war with his dog over a shoe, another tries to untangle himself from a telephone cord, and a woman looks in despair at a clock as she struggles to clean a never-ending pile of dirty dishes. His hilarious characters are caricatures of overworked, overwhelmed and overbooked Americans.
On exhibit during ArtBasel Miami Beach at the Lowe Art Museum on the University of Miami campus, and sponsored by Myrna and Sheldon Palley and the Art Alliance for Contemporary Glass will be "Kitchen Dreams", an exhibit comprised of pieces that remark, with tongue firmly in cheek, about overworked, overbooked, and overwhelmed Americans. Each piece has a story to tell.
Meet the glass artist Ricky Bernstein at a cocktail party on Thursday, Dec. 3.
Bernstein describes his character as "a slice of Americana, going about their daily lives with the barest degree of composure. As they round the next corner looking warily over their shoulder, they sigh, take a deep breath and wonder what could possibly happen next. Mostly the hang on for the big ride and hope for the best."
Inspired by the wild activity at home with his wife and two young daughters, Bernstein's work has an underlying humanity to which everyone can relate. The work of Red Grooms, Jack Levine and Gary Larson also have a profound affect on Ricky's work, along with the sit-com world of 50's television a time in which he was raised. Ricky also draws influence from such painters as Thomas Hart Benton, Reginald Marsh and Paul Cadmus. His narrative, collage-style wall reliefs have a distinct "pop-art" flavor.
Bruce Pepich, 20th century Curator of the Racine Art Museum says of Ricky Bernstein: "He makes us comfortable with amusing characters while simultaneously posing serious questions in these satirical comments on modern life. Whether parody, narrative or farce, the issues Bernstein poses are well worth our serious consideration."
Bernstein's work is widely collected throughout the U.S. and Europe, including the Corning Museum of Glass in NY, the Museum of Arts and Design, in NYC, and the Renwick Gallery in Washington, DC.
http://www.rickybernstein.com
and http://www.rickybernstein.com/KitchenDreams.html
——————————————————————————
LOWEDOWN HAPPY HOUR
DECEMBER 3, 2009, 5-7 PM
Artist Tour & Presentation: 6 pm
Lowe members free; non-members $10
ANNUAL ART BASEL CHAMPAGNE BRUNCH
DECEMBER 6, 2009, 9:30 AM-NOON
Artist Tour: 9:30 am
Event is restricted to Upper Level Lowe Members and Art Basel VIP card holders and exhibitors
About The Myrna and Sheldon Palley Pavilion for Contemporary Glass and Studio Art at The Lowe Art Museum on the University of Miami campus. Opened in December 2008, The Palley Pavilion displays the Palley glass collection: a collection of over 300 built over 30 years. There is currently work representing 53 different artists, including Howard Ben Tre, Jose Chardiet, Dale Chihuly, Dan Dailey, Michael Glancy, Harvey Littleton, Stephen Weinberg, Stanislav Labinsky, and Lino Tagliapietra, among others.
The Palley Pavilion at the Lowe Art Museum displays the Palley Collection on a rotating basis and features additional donations in glass, ceramics and fiber. Janet and Joseph Shein donated a larger-than-life-sized ceramic head on its own pedestal, along with its rendering, by internationally renowned ceramicist Robert Arneson, and anonymous donors donated a William Morris installation, consisting of 15 different elements, a 10 feet tall ceramic oval by Jun Kaneko, and a textile wall hanging Ken Uyemura.
Designed by Coral Gables based architect Ronald Mateu, of Mateu Architecture Inc., the light-filled 3,500 square foot Pavilion incorporates elements that show off the inherent qualities of glass.
Entrance to the Palley Pavilion is a site-specific glass installation by renowned international glass artist and UM art faculty member William Carlson. A chandelier of revolving prisms by Jon Kuhn, donated by the artist, welcomes visitors to the space, which consists of the Beaux Arts Gallery, Matus Family Gallery, the Robert and Florence Werner Showcase, each housing selections from the permanent collection in handsome display cases.
Eight niches, measuring nine feet square and situated on the south and west facing walls, contain large-scale objects in all three media, and include works by Therman Statom, Rick Beck, Clifford Rainey, Robert Palusky, and former UM art faculty members Christine Federighi, Robert Willson, and Ken Uyemura. Floor pedestals scattered throughout the pavilion showcase single objects.
The Lowe Art Museum is located at the University of Miami at 1301 Stanford Drive, Coral Gables. Hours are 10 a.m. to 5 p.m. Tuesdays, Wednesdays, Fridays and Saturdays, 12 to 7 p.m. Thursdays and 12 to 5 p.m. Sundays. Admission is $10 for adults, $5 for non-UM students with I.D., $5 for adult groups of 10 or more, $3 to student groups of 10 or more, and free to members, University of Miami students, faculty and staff, and children under age 12. For more information, call (305) 284-3535 or visit www.lowemuseum.org, click on wingnut for Palley Pavilion page.