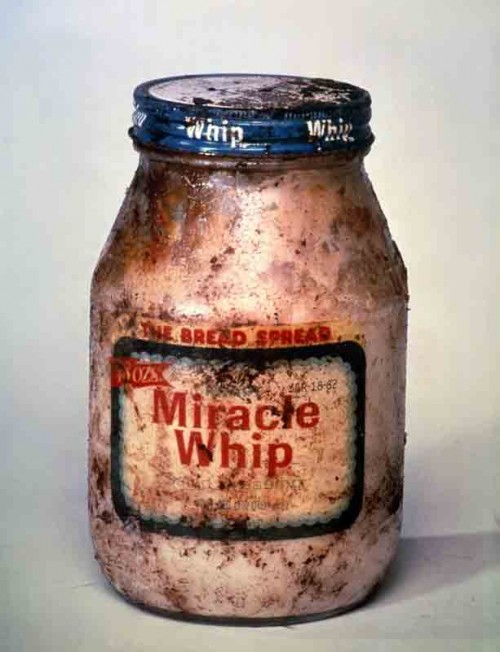 Where Do We Go From Here?
Selections from La Colección Jumex
December 3, 2009 – March 14, 2010
Paul McCarthy (American, b. 1945), Propo-Miracle Whip, 1992, C-Print , Courtesy of Bass Museum
Where Do We Go From Here? Selections from La Colección Jumex explores one of the most important collections of contemporary art in Latin America. The exhibition is co-organized by the Bass Museum in Miami Beach and the Contemporary Arts Center, located in the Lois and Richard Rosenthal Center for Contemporary Art, Cincinnati, Ohio, and Fundación/Colección Jumex based in Mexico. This will be the first time that this collection is shown in the United States.
Focusing on art as a cultural index, Where Do We Go From Here? highlights key aspects of La Colección Jumex. Juxtaposing inter-generational artists, as well as artists from or based in Mexico with international counterparts, the exhibition has four sections: art about art; art and urban anthropology; text in art; and a series of artist profiles.
Appropriation strategies are fundamental in contemporary art. Whether direct, part quotation or reference, artists such as Sherrie Levine, Louise Lawler, Richard Pettibone and Jonathan Monk have raised issues of utmost relevance regarding originality and authorship; the frameworks of art; gender; and mass media.
In recent years, the art scene in Mexico City has received international attention. Among the central issues that define art from the megalopolis is the use of urban culture as an art laboratory. A diverse grouping of works are presented and read through this lens, including art by Francis Alÿs, Carlos Amorales, Jenny Holzer, Abraham Cruzvillegas, Minerva Cuevas, Daniel Guzmán, On Kawara, Damian Ortega, Andy Warhol, and Kelley Walker.
Bass Museum Of Art
2121 Park Avenue
Miami Beach, FL 33139
bassmuseum.org
305.673.7530