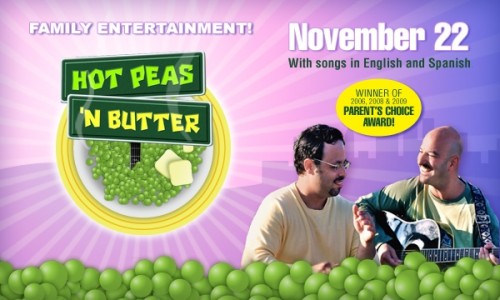 Sunday, November 22 @ 11 a.m., 2 p.m., & 5 p.m.
Carnival Studio Theatre
(Inside the Sanford and Dolores Ziff Ballet Opera House)
Winner of the 2006, 2008, and 2009 "Parent's Choice Awards", Hot Peas 'N Butter is a unique children's musical group that incorporates elements of traditional Latin music, Afro-Caribbean rhythms, jazz, folk, and rock.
By combining an interactive, invigorating approach to performance with multicultural music sung in English and Spanish, Hot Peas 'N Butter has developed a distinct way of inspiring creativity in kids and adults alike. You've seen their hit videos "Number 1" and "Deep Down" on Nickelodeon and Noggin now see them LIVE!
or call our box office at 305.949.6722 to purchase your tickets today!