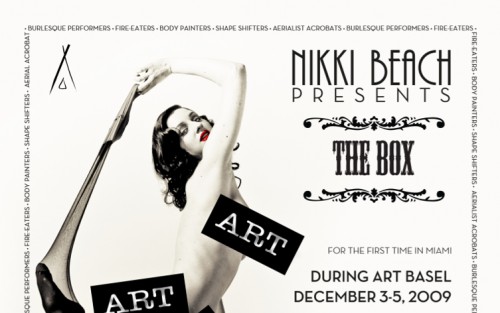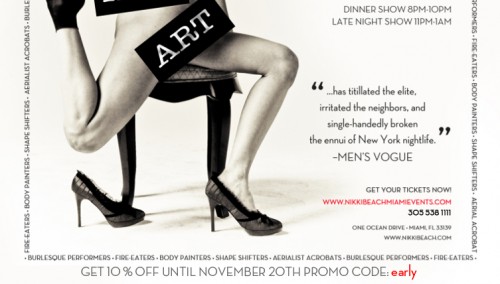 Nikki Beach Brings "The Box" directly from New York City to Miami during Art Basel December 3rd to 5th, 2009
Nikki Beach brings globally renowned burlesque performance to the art deco shores of Miami Beach
Global luxury lifestyle entertainment group Nikki Beach will bring "The Box" directly from New York City for a three day performance art series at Club Nikki during Art Basel.
For the first time ever in Miami and with a brand new series of original performances, "The Box" will take guests on a seemingly endless risqué ride that they won't soon forget. Variety acts including burlesque performers, fire-eaters, body painters, shape shifters, and aerialist acrobats will leave guests wondering if people really can bend that way.
"The Box" is an exclusive theatrical performance based out of the Lower East Side of New York City and has revolutionized nightlife through a radical approach to late-night entertainment. With an artistic advisory board consisting of Rachel Weisz and Jude Law and innovative live theatrical productions, "The Box" has taken the world by storm. Global appearances include London, Istanbul, and Washington D.C.
Just like Nikki Beach, "The Box" is internationally renowned for award winning design, exclusive clientele, and extraordinary service, making this an ideal partnership.
Performances will take place Thursday, December 3rd through Saturday, December 5th, at Club Nikki, located upstairs at Nikki Beach Miami, with two shows per night.
First Show:
8pm to 10pm – Dinner Show with a 3 Course Prix-Fixe Menu and suggested wine pairings by Nikki Beach Executive Chef, Gerry Gnassi.
Second Show:
11pm – 1am – Late Night Show with Table and Bottle Service.
To make reservations and for more information please visit www.nikkibeachmiamievents.com or call (786) 515-1158.
About Nikki Beach
In 1998, Nikki Beach introduced the world to the ultimate beach club concept bringing music, entertainment, fashion, dining and art, together. Over a decade later, Nikki Beach continues to make its mark in the world's hottest addresses and trendsetting locales, recently claiming the #1 spot in Travel Channel's World's Sexiest Beach Bars. The Nikki Beach concept has transcended its international venues and grown into a global lifestyle company: a clothing line, Endless Summers by Nikki Beach—which was launched at the 2009 Cannes Film Festival; Marketing and Public Relations Divisions; Global Sponsorships and Special Events; Nikki Beach Music; a VIP Membership card and concierge program; Nikki Style Magazine; and a Hotel and Resorts Division with several new locations to open starting in 2010.
The Nikki Beach lifestyle can now be experienced in nine different countries in thirteen cities: Miami Beach, Florida, USA; St.Tropez, France; Cannes Film Festival, France; St. Barth, French West Indies; Marbella, Spain; Cabo San Lucas, Mexico; New York City, New York, USA; Marrakech, Morocco; Koh Samui, Thailand; Panama City, Panama; Toronto Film Festival, Canada; Vilamoura, Portugal; Portimao, Portugal.
For more information on Nikki Beach, please visit www.nikkibeach.com.