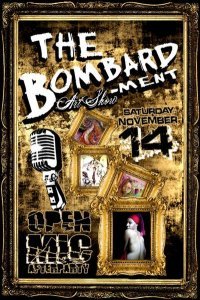 Saturday, November 14, 2009 at 7:00pm
The Bunker
261 NE 73 ST
Miami, FL
Its that time of the month, once again!
11 Artists will be Bombarding The Bunker with their art on Saturday November 14 (second Saturday)!!!
Ella Dufrene
Marcus Blake
Jacob Guerin
Eddie Negron
Carmen Guadalupe
Eduardo Rosas
Rod Deal
Mike Trujillo
Guillermo Ardon
Lesly Enriquez
Ramon Fernandez-Bofill
NO COVER
**LIVE MUSIC by: NO LINE**
**FREE APPETIZERS FROM BISTRO BISOU!**
**DRINK SPECIALS ALL NIGHT**
FIRE BREATHING AND LIVE GRAPH BY: STERLING ROOK
**OPEN MIC AFTER PARTY**
**DJ LEX**
DONT MISS OUT! ITS A CREATIVE REVOLUTION YOU CANNOT MISS =)
Thank you for using Soul Of Miami!