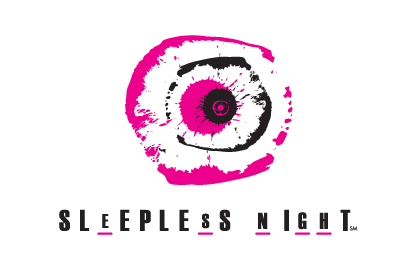 SLEEPLESS NIGHT AT THE BASS MUSEUM OF ART THIS SATURDAY!
The Museum will be Open from 6PM Saturday Nov. 7 – 2AM Sunday Nov. 8
Awake to a world of free outdoor art installations and performances, music, dance, theater, film, comedy, poetry, acrobatics and more at over 100 different locations spread across the city and a 13 – hour night. Free shuttle buses with onboard arts programming will be running all night, so leave the car at home and prepare to be dazzled!
The Bass Museum of Art will once again be the center of activity with during Sleepless Night with Night Shift, a group of exciting and unexpected site-specific installations and sculptures in Collins Park curated by Jerome Sans. Sans was the founder and co-director of the world-acclaimed Palais de Tokyo, the cutting- edge contemporary art center that opened in Paris in 2002. Currently he is Director of one of the first nonprofit art centers in Beijing, the Ullens Center of Contemporary Art, and is Cultural Curator for Le Meridien Group. He was co-curator of the Paris Nuit Blanche in 2006, and is also a rock musician and DJ – he'll be providing the live soundtrack for Night Shift.
The artists included in Night Shift are Jim Drain and Brooke O-Harra, Robert Chambers, Christy Gast, Julie Kahn, Nicolas Lobo, Ernesto Oroza & Gean Moreno, Tom Scicluna, Frances Trombly, and Viking Funeral.
In addition to the happenings in Collins Park there will be special Sleepless Night attractions inside the Bass Museum of Art.The Miami International Piano Festival has earned a wonderful reputation for bringing the "best of the best" newly discovered pianists and prodigies to Miami Beach. Come enjoy a tasty sampling of talented Festival musicians for a Sleepless Night of classical virtuosity at the Bass Museum of Art. Thirty minute programs offered at 7:00, 8:00, 9:00, 10:00 and 11:00 p.m.
MIAMI INTERNATIONAL PIANO FESTIVAL PROGRAM for Saturday, November 7:
7:00 – 7:45PM: Michael Province (Violinist) – Vitali, Grieg, saint Saens
8:00 – 8:45PM: Marcel Angles (Pianist) – Chopin, Luis Urbina (Pianist) – Chopin
9:00 – 9:45PM: Ida Haendel (Legendary Violinist) & Misha Dacic (Pianist) – Corelli, Bach, Sarasate
10:00 – 10:45PM: Ilya Itin (Pianist) – Rachmaninoff
11:00 – 11:45PM: Misha Dacic (Pianist) – Chopin
This event is free and open to the community. Please note although we close the museum doors at 2AM on Sunday, Sleepless Night will continue throughout other areas of Miami Beach until 7AM!
THE BASS MUSEUM WILL BE CLOSED ON SUNDAY NOVEMBER 8 AND WILL RESUME REGULAR VIEWING HOURS BEGINNING WEDNESDAY NOVEMBER 11.
Sorry for any inconvenience…….but we will need the rest!
Bass Museum of Art
2121 Park Avenue (in Collins Park)
Miami Beach, FL 33139
T: 305.673.7530
bassmuseum.org
Thank you for using Soul Of Miami!