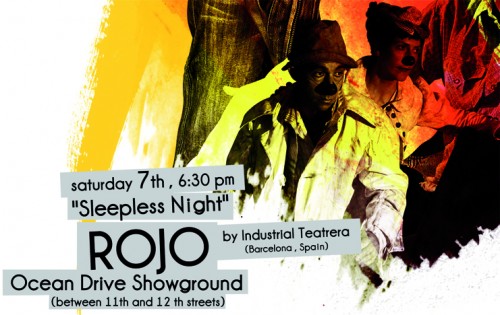 CCEMIAMI EN EL SLEEPLESS NIGHT FESTIVAL PRESENTA: ROJO DE INDUSTRIAL TEATRERA
for more info click here
DATE: 11-07-2009
TIME: 6:30-8:00pm
ROJO de Industrial Teatrera
Saturday November 7, 6:30 pm
Program to promote Spanish culture
At Lummus Park Showground (between 11 & 12 Streets)
Miami Beach. Free Admission
Rojo is an intimate clown show 45 minutes long for all audiences based on a poem by Palau i Fabre and on the Red Tree by Shaun Tan. Rojo is a play that creates a suggestive refuge in the city.
Tired and dragging their luggage, looking for a place to spend the night to find refuge, to survive, day by day the same thing. Today they've been lucky,they found a place to sleep, they can rest, even…dream.
It seems that next day will be the same but…they have it in front full of color and live, just as they dreamt about it…Red!
Rojo is a show for all audiences where children are invited to come accompany.