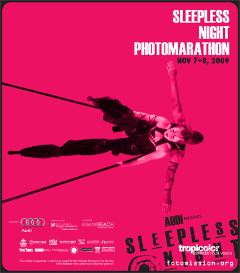 Don't miss this exciting event!
Sleepless Night Photomarathon
November 7+8, 2009
During the most talked about event taking place on Miami Beach, participants will be assigned three topics to photograph during Sleepless Night. In addition to "Best of Show", First, Second and Third place prizes will be awarded for each of the four zones of activity. $1.000.00 in cash (to be distributed among winners), hotel stays, framed exhibition prints and more are among the many prizes. The top entries will be exhibited in Miami Beach City Hall's 4th Floor Gallery during Art Basel/Miami Beach, 2009.
For more information visit www.fotomission.org
Thank you for using Soul Of Miami!