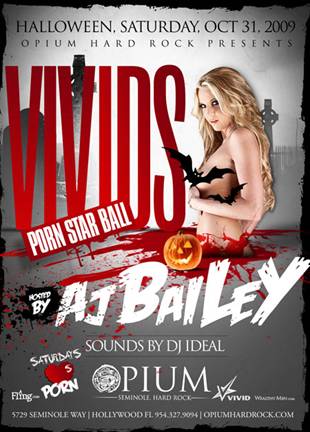 AJ BAILEY TO HOST VIVID'S PORN STAR BALL ON HALLOWEEN AT OPIUM AT THE SEMINOLE HARD ROCK HOTEL & CASINO IN HOLLYWOOD, FLA
WHO: Vivid Girl AJ Bailey is a contract actress who works exclusively with Vivid Entertainment, the world's leading adult film company. AJ was dubbed "The World's Smartest Porn Star" by TMZ.com and her title was confirmed by Howard Stern.
She holds a master's degree from the prestigious St. Andrews University in Scotland. Forget Yale and move over Harvard, St. Andrews was founded in 1413 and counts royalty amongst its students.
"Your brain is probably the most erogenous zone in your body," says AJ.
WHAT: AJ will host a sexy, scary and fun-filled open-to-the-public Porn Star Ball evening where she'll meet with fans and pose for photos.
WHERE: At Opium at the Seminole Hard Rock Hotel & Casino, 5729 Seminole Way in Hollywood, Fla./954-327-9094.
WHEN: Meet AJ, Saturday, October 31st starting at midnight.
For more information visit: www.opiumhardrock.com
Press contact: jackie@vivid.com/800-762-4761