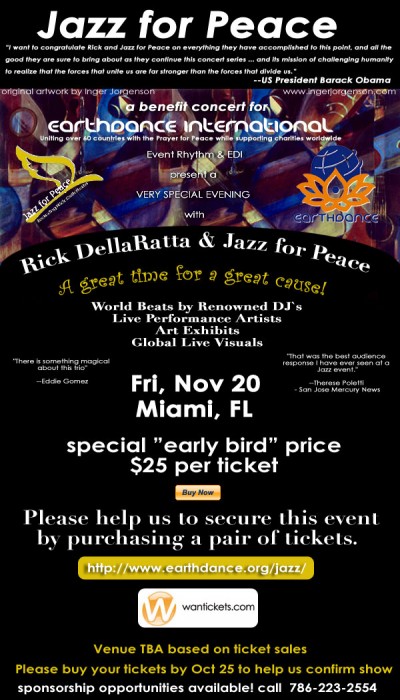 You are invited to a very special event:
Rick DellaRatta and Jazz For Peace in Miami, FL on Fri Nov 20.
More details on Event Flyer below!
Rick is a world renowned jazz musician who has played at the UN for Peace. On Nov. 20, he is doing a FUNDRAISER for Earthdance International, an organization whose mission is awareness and action for peace, harmony, planet through dance and music.
We need to sell 50 tickets sold in 2 days by Oct 25 to enable the concert.
Schedule it now. Fri Nov. 20. Let's make it happen. 25 pairs at $25 each.
Please think globally. You don't have to be local to be part of the event.
Buy a Ticket * Donate a Ticket to the Underprivileged * Become a Sponsor
Help us sell our first 25 pairs of tickets by Oct 25 to make it happen!
Kindly Buy Now!
http://www.earthdance.org/jazz
This is going to be an amazing event! The venue will be selected based on ticket sales.
Please support Earthdance and get a ticket today.
If you would like to promote your business, we have a $50 sponsorship package as well.
Just visit: http://www.earthdance.org/jazz or contact
Marla Warrington/ Director of Events
786-223-2554/ marlaw@EventRhythm.com