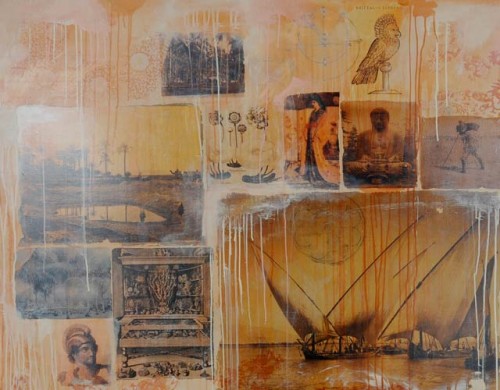 Wynwood Central Gallery opens featuring artist Kito Mbiango
Thursday, October 29th, 2009
Kito Mbiango. 'L'Orange Elegans' 2008. Mixed Media on Canvas
Opening reception: Thursday, October 29th, 2009. 6:00 p.m.
Location: Wynwood Central Gallery. 2242 NW 1st Place. Miami, FL 33137
Admission: Free
Wynwood Central Gallery (in the heart of the Wynwood Arts & Design District in Miami) officially opens its doors to the public on the evening of October 29th, 2009 presenting a solo exhibition of emerging artist Kito Mbiango. A calm, but visually stimulating atmosphere is made possible by the works of Mbiango and the philosophy of providing a stirring, inviting experience for the viewer is assured by owner Gilles Dandrieux and gallery director Shana Beth Mason.
Mbiango draws from his wide-ranging travels and photographic experience in producing works that excite the imagination by crossing and blurring cultural borders between Eastern and Western spheres of influence. Elements of post-colonial commentary (initiated via found 18th and 19th Century engravings in the style of John James Audubon, J. Barralet, and James Fittler) and modern cultural references (through the use of turn-of-the-century photography and silkscreens) converge in a rich, complex layering of color and graphic embellishment. Above all, however, Mbiango's more pressing concern is the unity of both artistic and human ingredients: the integration of Eastern and Western influences seeks to peacefully reconcile the inherent cultural differences so ubiquitous in postmodern society. Overall, the goal for Mbiango is to gather both art and its viewer into one stunning, deeply spiritual achievement.
Kito Mbiango was born in Brussels in 1966. He is completely self-taught in his technique and utilizes multiple production methods including image transfer and mixed media assemblage all applied meticulously by hand. His paintings have been featured in public and private collections in the US and Europe and have been featured in publications such as Town & Country Magazine and Architectural Design. Non-profit groups, including UNICEF and Voices United, have also featured Mbiango's work. He spends his time between Brussels and Miami with his wife and two children.
Wynwood Central Gallery is open to the public on Monday through Friday from 10:00 a.m. to 5:00 p.m. Saturdays and Sundays by appointment only.
To RSVP for this event, please contact Gallery Director Shana Beth Mason at shana@wynwoodcentral.com
Wynwood Central Gallery
2242 NW 1st Place
Miami, FL 33137
305.433.3441
For more information about local openings and events, please visit www.miamiartguide.com