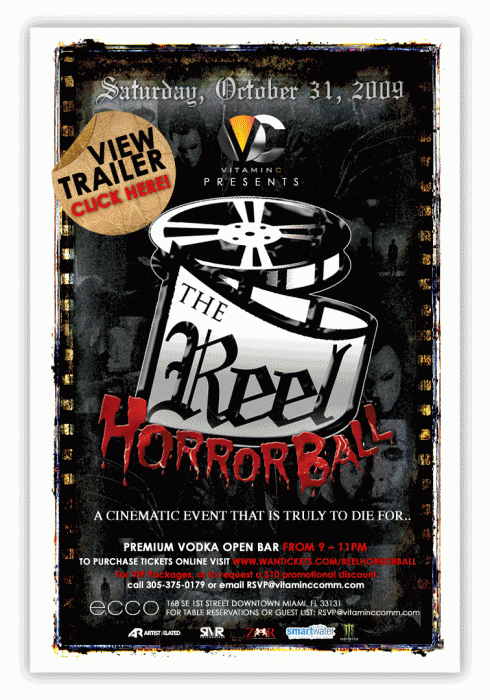 SATURDAY OCTOBER 31st, 2009
HALLOWEEN NIGHT
Angel Sanchez and Javi Zayas present
THE REEL HORROR BALL
A Cinematic Event That Is Truly To Die For…
Complimentary Premium Vodka Cocktails from 9-11pm
Ecco Lounge
168 SE 1st Street
Downtown Miami, FL 33131
www.reelhorrorball.com
You're invited to a special advanced screening of a cinematic event that is truly to die for.
Produced by marketing company Vitamin C,
The Reel Horror Ball premiering October 31st promises to be a box office hit!
If you can't make the pre-show, don't fear; there'll be plenty of drinks diversions to keep you dancing until the dead of night. DJs Miguel G and DJ Supreme1 will provide the exclusive spine-chilling soundtrack.
The Reel Horror Ball will be a real thriller and we invite you to be part of our esteemed cast, not only to revel in the city's biggest (and maybe bloodiest) Halloween bash.
You Don't Want To Be Caught Dead Anywhere Else
To Purchase Pre-Sale Tickets visit:
http://www.wantickets.com/reelhorrorball
To Get $10 off your ticket purchase enter promo code 103109
VALET PARKING WILL BE AVAILABLE FOR A COST OF $10
FOR INFORMATION REGARDING BOTTLE SPECIALS PLEASE CALL
(305)375-0179 or EMAIL RSVP@VITAMINCCOMM.COM
Thank you for using Soul Of Miami!