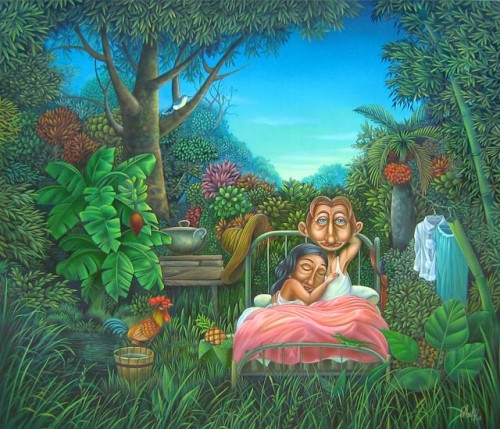 Leal's Gallery presents a solo exhibition by Abel Quintero
Friday, October 23rd, 2009. 7:30 p.m.
Opening reception: Friday, October 23rd, 2009. 7:30 p.m.
Location: Leal's Gallery. 1555 SW 8th Street. Miami, FL 33135
Dates: From Oct 23rd through Nov 21st, 2009
Admission: Free
On October 23rd, 2009 Leal's Gallery opens the solo exhibition "Mas Guajiro que Naiden" by Cuban artist Abel Quintero with a reception to meet and greet the artist. Quintero started his involvement with the arts at a very young age, when he began exhibiting around his country. Since then, his work is better known for its Cartoonish style and the exuberant imagery of Cuba's rural landscapes. Throughout his lifetime career, his work has received several prizes and has been included in solo and group exhibitions in Spain, Italy, US, Puerto Rico and the Dominican Republic.
About Leal's Gallery
Leal's Gallery is one of the newest additions to Calle 8 District. The space was introduced by father and son Nestor and Aleksejs Leal in February of this year, with the purpose of fulfilling their dream of exhibiting and promoting Cuban and Latin American Art, as well as providing framing services. The Leals, who have been avid art collectors for quite some time, decided to give a boost to their passion and created this space to consolidate their take on the Miami's art community. They are offering the gallery to artists regardless of their style, technique or discipline in order to keep an open atmosphere that fosters creativity.
Leal's Gallery
1555 SW 8th Street
Miami, FL 33135
305.642.3133
www.lealartframe.com