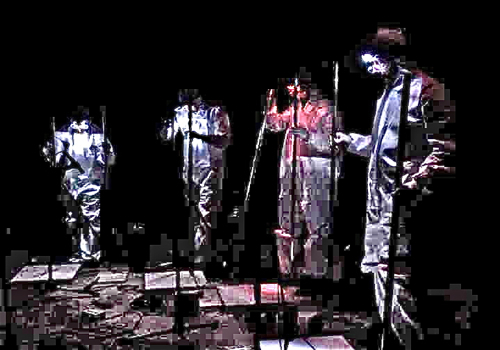 2 Different Computer Music Events this Friday and Saturday
( Concert number 1 )
12 NIGHTS Electronic Music and Art:
Elliott Sharp and FLEA
October 23, 2009 at 8PM
Join us for an evening of experimental music featuring renowned composer, performer and improviser Elliott Sharp. Sharp has been for years a star of the New York experimental scene with his unique interplay between guitar, saxophone, and live electronics. Sharp's work defies definition, exploring the boundaries of rhythm, groove, noise and tone. FLEA (FIU Laptop & Electronic Arts) Ensemble joins Elliott Sharp in the performance of his landmark Hammer Anvil Stirrup.
( Location of concert number 1 )
Dorsch Gallery
151 NW 24th Street
Wynwood District Miami, FL 33127
info@12nights.org
http://www.12nights.org/Night8.html
_________________________________________________________________________________
( Concert number 2 )
12 NIGHTS Electronic Music and Art:
Bolts, screws, pipes and electronics
Featuring Kasia Glowicka, Henry Vega, Mirjana Petrovic, David Dean Mendoza, The UOM and Juraj Kojs
October 24, 2009 at 8PM
Hardware store items such as screws, bolts, chains and pipes will star as musical instruments tonight. International troupe of composers and performers will engage you in a neo-futurist spectacle. In a series of sets, live electronics and physical labor will conjure up ambient soundscapes and polyrhythmic beats full of musical colors.
( Location of concert number 2 )
University of Miami's CAS Art Gallery
1210 Stanford Drive
(Wesley Building across from the Lowe Art Museum)
Coral Gables, FL
info@12nights.org
http://www.12nights.org/Night9.html
———————————————————————
Juraj Kojs, Ph.D.
Director of Music and Multimedia Programs
Harold Golen Gallery
2294 North West 2nd Avenue
Wynwood Art District
Miami FL 33127
http://www.12nights.org
info@12nights.org