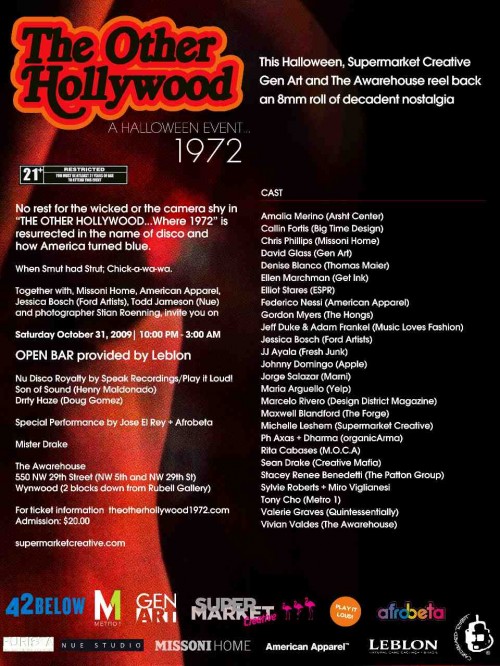 This Halloween, Supermarket Creative and Gen Art reel back an 8mm roll of decadent nostalgia. No rest for the wicked or the camera shy in "THE OTHER HOLLYWOOD…Where 1972" is resurrected in the name of disco and how America turned blue.
When Smut had Strut; Chick-a-wa-wa.
And… Action
A collaborative effort by Missoni Home, American Apparel, Nue Studio & Jessica Bosch of Ford Artists, be prepared to get a spoonful of sleaze and glamor. Enjoy a sneak peak of the making behind "The Old Hollywood…1972″ with decor and styling reminiscent of a vintage XXX movie set. Miami performer, Jose El Rey plays Dirk the Director & Brittany Norris as Luscious Linda. Guest actors (you!) will enjoy the clips…the morning after.
The Players
Son of Sound + Drrty Haze
Like-minded DJs Henry Maldonado (Son of Sound/Speak Recordings), Doug Gomez (Drrtyhaze) pay tribute to this era with Play It Loud/Speak Recordings. "Play it Loud! is an event that celebrates New York club and art culture during its golden-area run in the 70d late 80's. While there is certainly no shortage of disco and post-disco nostalgia-fueled gatherings these days, Gomez, Maldonado come together to help reinforce the musical integrity and vibe of disco."
Jose El Ray
"Old-school bros, roller rink queens, Wynwood hipstersthey all worship at the altar of this ladies'-man shaman. Seriously – so many girls jump onstage to shake their shit that El Rey's trusty security sidekick, El Tigre, often has to lay the smack down, for real. The king has scored shout-outs from Perez Hilton and a recent full-page interview in Maxim en Español, as well as an appearance (as part of the Miami Bass Warriors group) at the holy grail of local Latin culture: the Calle Ocho Festival. Jose El Rey loves Miami, and Miami loves him right back." – New Times
Afrobeta
"With their infectious rhythms and dance-a-licious beats, Afrobeta's songs are classic yet modern, borderline underground yet so Billboard chart-friendly. Cristina "Cuci Amador" Garcia pop sensibility resonates throught a blend of bilingual proficiencies that even Shakira might covet, while Tony "Smurphio" Laurencio burns holes through his Moog keyboards with funky fire. It wouldn't be surprised to find Afrobeta writing songs for Madonna or even M.I.A. But for now, Miami is lucky to have the duo performing on a regular basis; the two are a match made in disco-house heaven." New times. Miami Best Local songwriters 2008.
Stian Roenning
Audio Visual Director, "A Norwegian who digs badass friends, kickass music, photography, painting, rocking out, traveling, eating, skateboarding, snowboarding, surfing, Churchills on mondays and a hell of a good beer in the shade in Miami."
Jessica Bosch
Ford Artists, wardrobe stylist. "I'll give you television, baby."
Todd Jameson
They say he's the best haircut in Miami. If you dont like how you look, change what you're looking at."
Brittany Norris
21 years old
Works at hooters.
Nymphomaniac
Favorite quote – "All art is quite useless" – Oscar Wilde