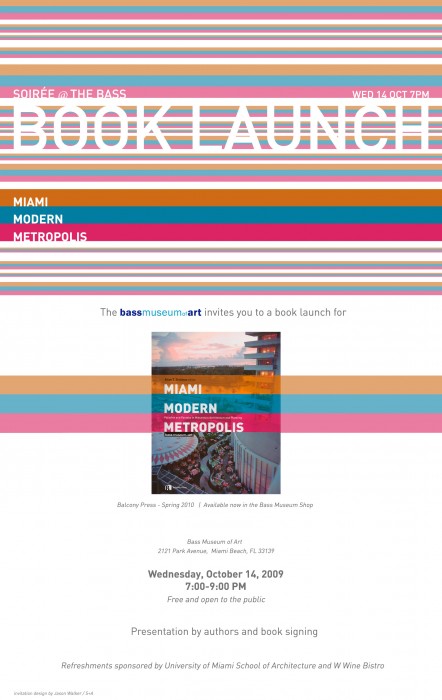 The Bass Museum of Art invites you to a book launch for
Miami Modern Metropolis
Bass Museum of Art
2121 Park Avenue, Miami Beach, FL 33139
Wednesday, October 14, 7:00-9:00 PM
Free and open to the public
Presentation by authors and book signing
Refreshments sponsored by University of Miami School of Architecture and W Wine Bistro
The two decades that followed World War II were a period of extraordinary growth in Miami. During that time, architectural modernism provided a framework for the city's new urban patterns, novel building types, evolving aesthetics and emerging environmental consciousness. Modernism is appropriately a lens through which to examine Miami's postwar development, and conversely, postwar Miami is a discriminating mirror of themes within the modern movement. The city was a virtual laboratory of modern architecture, a semitropical hothouse where modernism was probed, challenged, adapted and ultimately expanded. Miami Modern Metropolis explores the distinctive and illuminating premises embodied in the city's growth from 1945 to 1965.
Sponsored by The Bass Museum of Art and edited by architect and historian Allan T. Shulman, the book includes more than 40 essays by 23 contributors, richly illustrated with master plans, original renderings and archival photographs. Framed by theoretical essays that establish Miami's modernism as a terrain of paradox, the book investigates the built and unbuilt work of the city, spanning visionary urban plans, iconic infrastructure, commercial and industrial projects, resort architecture and the elaboration of regional identity in new residential paradigms like the tropical home.