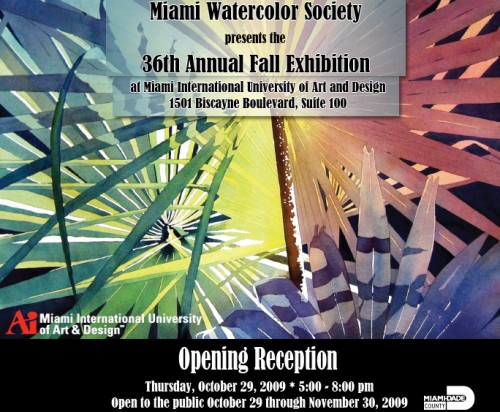 Miami International University of Art & Design hosts the Miami Watercolor Society's 36th Annual Fall Exhibition
What: Opening Reception for the 36th Annual Fall Exhibition of watercolor works made by member artists and juried by Donna Zagotta, nationally recognized artist, teacher, juror, and member of the American and National Watercolor Societies.
When: Opening Reception is Thursday, October 29th from 5pm – 8pm
Exhibition opens October 29th and continues through November 28th
Where: Main Gallery of Miami International University of Art & Design, 1501 Biscayne Blvd. Miami, Fl 33132
Who: A group art exhibit featuring the talented works of member artists
Cost: Gallery reception is open to the public at no cost
Metered parking is available on the street as well in the Omni Garage for $12.00 per hour.
About Miami International University or Art & Design
Miami International University of Art & Design is located near the heart of the arts district offering degree programs in Fashion Design, Fashion Merchandising, Accessory Design, Visual & Entertainment Arts, Photography, Interior Design, Graphic Design, Visual Effects & Motion Graphics, Computer Animation, Audio Production, and Film & Digital Production. We also offer Master of Fine Arts degree programs in Interior Design, Computer Animation, Film, Graphic Design and Visual Arts and a Master of Arts degree in Graphic Design. For more information on Miami International University of Art & Design, visit us at www.mymiu.edu.
Miami International University of Art & Design is one of The Art Institutes (www.artinstitutes.edu), a system of over 40 education institutions located throughout North America, providing an important source of design, media arts, visual arts, fashion and culinary arts professionals.
About Miami Watercolor Society
The Miami Watercolor Society is a volunteer-based, non-profit organization that has been in existence since 1974, with 130 members from all over South Florida, including "snowbirds". Membership includes students, amateurs, and professionals, many of whom teach. In addition to regular monthly meetings, where demonstrations by various artists are part of the agenda, the Society holds workshops throughout the year led by noted artists from around the country, and spearheads the annual Dade County Art Teacher workshop and "Annual Impressions in Watercolor", a juried art show for all students in the Miami-Dade County Public Schools.
MWS also has two juried membership shows each year, one in the fall and one in the spring. More information on the Society can be found at www.miamiwatercolor.org.