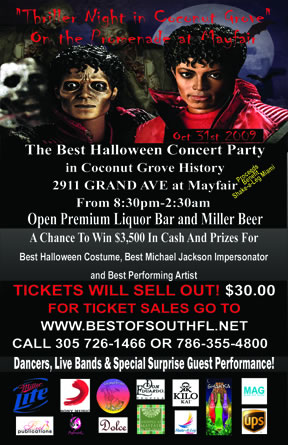 Thriller Night In The Grove At Mayfair!
The Biggest Halloween Event Ever!
Featuring Live – Music Idol "Monique"
With Thriller Dance Tribute
Halloween Night! The Party Begins!
Coconut Grove's Shops of Mayfair Promenade will be the venue for one of the Biggest Events Ever this Halloween Night! – Thriller Night In the Grove will take place October 31st 2009 from 8:30pm to 2:30am. – Located at 2911 Grand Avenue – Coconut Grove, Fl. Over $3,500.00 in cash and prizes is up for grabs for Best Costumes and Performances.
"Thriller Night In the Grove" presented by MILLER BEER & Coconut Grove Art Stroll and benefiting Shake –a –Leg Miami will be the event you cannot miss on Halloween Night.
This ticketed event will have a host of DJ's that will make you want to dance all night long. There will be a live performance by Music idol "Monique" performing her hit single "Killin It" Presented by: Southline Music also there will be a show stopping performance by Gabriel Antonio " The New King of Free Style"– Also, there will be a Thriller Dance Tribute and several performances by Professional Michael Jackson Impersonators. Enjoy watching large screen visuals situated on site where you can view Michael Jackson shorts courtesy of Sony Music. There will be plenty of prizes and giveaways available.
Tickets are $30.00 each – Tickets will sell out quickly! So make sure you buy them now because there is limited capacity at this event. For ticket purchase online go to www.bestofsouthfl.net or you can purchase tickets in person at the UPS Store location in Coconut Grove located at 3109 Grand Avenue, or one can purchase tickets at the gate on the Grand Avenue side of the Promenade entrance at Shops of Mayfair at the Night of the event.
Ticket price of $30.00 includes The Best Entertainment Ever! Open VIP Bar Compliment's of Miller Beer, Kilo Kai Rum and Don Eduardo Tequila and Shakka Liquor. There will lots of prizes and giveaways, Food vendors will be made available on site as well. Please go to the website for Thriller Night In the Grove at www.bestofsouthfl.net.
Here are the details:
When: The Event kicks off on Halloween Night. Saturday, October 31st 2009 starting at 8:30 pm and ending at 2:30 am.
Where/Ticket Purchase: Location is at the Shops of Mayfair Promenade located at 2911 Grand Avenue, Coconut Grove, Fl – For Ticket Purchase got to www.bestofsouthfl.net or for contact information for the Event promoters is Cynthia Bettner 786-355 -4800 e-mail c_bettner@yahoo.com or Johnny Valdes at 305-726-1466 e-mail artway66@yahoo.com
Benefiting: Shake-a-leg Miami www.shakealegmiami.org