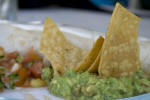 Guinness World Record Guacamole Event at Schnebly Redland's Winery
This Sunday October 11th, we're going to attempt to break the Guiness World Recordâ"¢ for "Largest Serving of Guacamole"! We're going to be breaking California's record of 4,011 lbs! Except we'll be doing it with Florida Green Skin Avocados instead of the Mexican Haas avocados that California uses!
We've got four teams of kids from local high schools teamed up with four South Florida superstar chefs (Chef Allen Susser, Chef Michael Schwartz, Chef Darren Lee and Chef Giancarla Bodoni) to make this guacamole. Not only that, but we'll have contests for the Best Guacamole Recipe, Best Avocado Ice Cream and Best Avocado Cake/Pie! All proceeds from this event will go to benefit the culinary and agriculture programs from the four schools!
Click here for more info and RSVP on Facebook!
30205 SW 217 Ave – Homestead, FL 33030 – (888) 717-WINE
Our goal is to break the Guinness Book of World Records for "largest Serving of Guacamole". The current record is 4011 pounds 12 ounces set back in 2007. The previous record holder is the Mexican Avocado Industry and FECADEMI. The record was set at the Michoacan Community Federation located in Lynwood California, USA.
This event will raise money and awareness for Florida's Green Skin Avocados, Miami Dade's Culinary programs in four high schools, South Dade S.H., John A. Ferguson S.H., Robert Morgan S.H. and Homestead S.H. All monies raised would go to these schools' culinary arts programs.
Schnebly Redland's Winery Located at 30205 SW 217 Ave, Redland Florida, 33030 will be the host sponsor for the event and will be donating the facilities at no cost. The attempt will be the highlight of the "Holy Moly Redland Guacamole Celebration" starting Friday Oct 9th. From 6pm till 10pm, we will have live un-plugged music, dancing, tours showing how to make Avocado wine along with a tasting of our 3 different Avocado wines. Saturday will feature everything avocado. Sunday will be the highlight event with the fund raiser for the culinary programs and the attempt of the world record.
On Sunday Oct 11th, the students will begin work at 8am. The scheduled time of competition is 3pm. The public is invited from noon until 5pm.
Fresh King Farms and the Krome family groves will be donating their avocados for the historic event. Four South Florida culinary icons: Chef Allen of Chef Allen's Restaurant in Aventura, Chef Michael Schwartz of Michaels Genuine Food and Drink in the Design District of Miami, Chef Darren Lee of Intercontinental West Miami Hotel in Doral and Chef Giancarla Bodoni of Escopazzo in South Beach will each be assigned a school and will guide the students in developing the record-breaking guacamole. In addition to the record-breaking guacamole, each famed chef will help the students create three dishes for an interschool competition:
1. Best Guacamole
2. Ice Cream made from Florida Avocados
3. Cake or pie made from Florida Avocados
Monies will be raised by the following ways:
1. Parking
2. Sales of Guacamole, Ice Cream and pies or cakes made by students
3. Donations
4. Sale of Art from the students with the theme of the day or Florida Avocados.
The music program from the schools will be providing music throughout the day. In addition, students will be competing in a YouTube video contest to produce the best event video from the day.