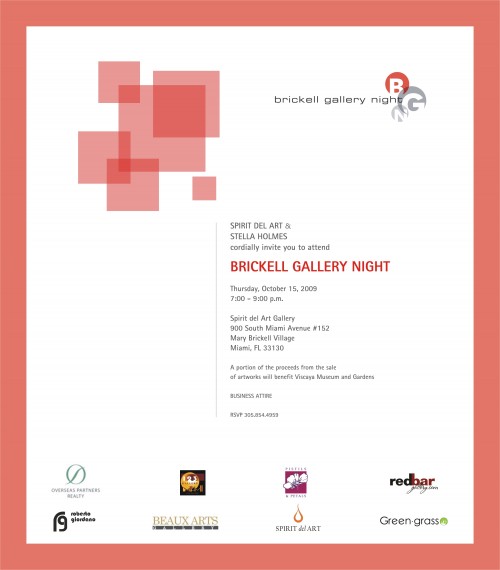 Next Brickell Gallery Night to Be Held at Spirit Del Art Gallery
Date: Thursday, October 15th 2009, from 7:00 p.m. to 9:00 p.m.
Place: Spirit Del Art Gallery
Mary Brickell Village #152,
900 South Miami Ave.
Brickell Gallery Night
Founder of the Brickell Gallery Night, Stella Holmes, announced the next event will take place from 7:00 p.m. to 9:00 p.m. on Thursday, October 15th at Spirit Del Art Gallery, Mary Brickell Village #152, 900 South Miami Ave.
In addition to one-of-a-kind works by local artists, the evening of art and entertainment will feature live music, drinks and light snacks. A portion of the proceeds of the sale of artwork will benefit the Vizcaya Museum & Gardens.
Promoted by long-time Brickell resident Stella Holmes, Brickell Gallery Night, presented on the third Thursday of every month, provides a forum where people who live and work in Brickell can unwind, connect and discover the wonderful production of emerging local artists.
Spirit Del Art, an art space founded in 2008 by Roberto Preciado, focuses on bringing to the international market exclusive works of art with an emphasis on the spiritual side of creation.
Featured artists at this event will include Amparo Garzon, Nathalia Preciado, Marcia Ramos Perello, Carlos Romaguera, Arturo Montoya, George Hustus, William Hustus, Sotte And Rodrigo de la Luz.
For more information, please contact Rosana Emanuelli at (786) 859-2398
or rosana@recreativegrp.com.