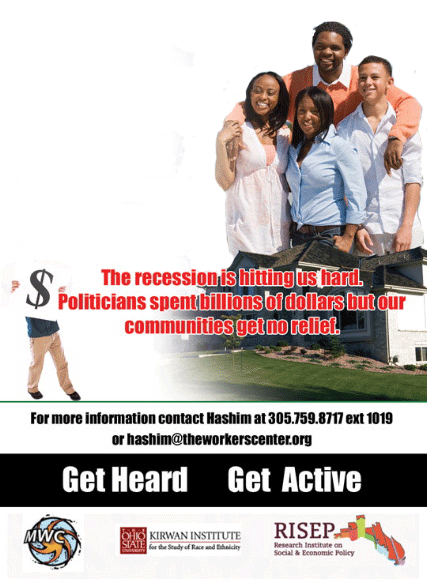 Bring the Money Home!
A forum on the recession, the stimulus, and the fight for fairness in Florida
Moderated by Joy-Ann Reid
Thursday, October 8th, 7 pm – 9 pm
Harvest Fire Worship Center
18291 NW 23rd Ave
Miami Gardens, FL 33056
The Bring the Money Home forum is part of a research and organizing campaign to build a fair Florida. Miami Workers Center, the Kirwan Institute, and RISEP will release the first part of a four part study examining stimulus spending through the lens of race, geography, and gender.
Check out this blog on the Huffington Post for more information about the stimulus and race, or download a White Paper about the stimulus spending and race here.
For more information contact Hashim at 305.759.8717 or hashim@theworkerscenter.org.