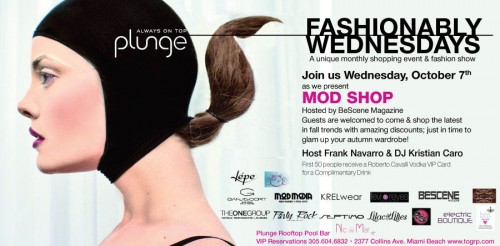 MOD MEDIA PRESENTS MOD SHOP AT THE GANSEVOORT SOUTH BEACH
A MONTHLY SHOPPING EVENT & FASHION SHOW HOSTED BY BESCENE MAGAZINE
"Whoever said money can't buy happiness simply didn't know where to go shopping."
October 2, 2009. Miami, FL. — Join us as we present MOD SHOP a fashionably unique shopping experience at Plunge Gansevoort South Beach. Guests are welcomed to come and shop the latest in fall trends with amazing discounts just in time to glam up your autumn wardrobe! Hosted by BeScene Magazine, a new online publication, MOD SHOP presents a bevy of upcoming designers, top boutiques, couture creations, bejeweled accessories, and sexy dresses! Participants include: DEMI by Desi, Electric Couture & Electric Boutique, Emporium Boutique, Fevi Reyes, Habit Boutique, KRELwear, Lilacs and Lilies, Party Rock by LMFAO, and Septimo.
At 10:30pm locals will gather around the Plunge pool area for an impromptu fashion show featuring key pieces from each designer participating. MOD SHOP will let you re-invent your look, stay within budget, and most of all give you that signature piece your friends will be gushing over for seasons to come!
For more information on the MOD SHOP, its designers, and fashion show or to RSVP please send your inquiries to Jennifer@modmediamiami.com
Event Details:
Who: MOD Media, Gansevoort South Beach
What: MOD SHOP Event, Trunk Show, Fashion Show
Where: Plunge at the Gansevoort South Beach
2377 Collins Avenue, Miami Beach
When: Wednesday, October 7th, 2009 at 9:00pm
ABOUT MOD SHOP PARTICIPANTS:
BeScene Magazine www.bescenemag.com
BeScene Magazine, a new online publication. BeScene Magazine is an online publication set to target the creative lifestyles of our devoted readers. BeScene Magazine is moving towards a more environmentally conscious concept by making the magazine a paper free publication. With the rapid growth of today's internet system, paper back publications will soon come to a screeching halt. Our main focus is to cover all aspects of our creative lifestyles; from well known artists and established entrepreneurs to contemporary original concepts yet to hit main stream media. We are committed to introducing some of the industries most talented people to the scene so their work can be promoted and followed thereafter by our readers.
DEMI by Desi www.demibydesi.com
"Decorate you Hair" with one of a kind headband and hair pieces, for every Fashionista. DEMI by Desi dresses up your outfit with flair and class. You won't know how they look until you try one on. DEMI by Desi are displayed in boutiques around Miami, and still growing. Divas of all ages are excited to see what designs I do next. My Fall Collection is inspiring and glamorous. From my "Art Deco Vintage Woman" to my "Elegant Trendy Lady" DEMI by Desi has a headband, clip, barrette etc. for YOU.
Electric Couture & Electric Boutique
Miami's premiere location for all things stylish! Electric Couture & Electric Boutique are your one stop shop for the perfect outfit. Business partners Yanelle Borbolla, and Ileana Lima have searched the fashion capitals seeking out the top looks of the season, and their keen sense of style keeps things fresh and always fashion forward. Glamorous, glitzy, trendy, and always edgy, these sister boutiques offer local fashionistas a place to call home.
Emporium Boutique www.emporiumboutique.com
Among the parade of chain stores Miami has to offer, for the last two years emporium has made a name for itself as a unique shopping experience. It is a one-stop-shop boutique that offers up an eclectic mix of clothing, home decor items, handcrafted gifts, exotic jewelry, gourmet candy, signature artisanal teas and other goodies from a mix of independent and local designers that goes unparalleled in Miami.
Fevi Reyes www.fevireyes.com
Fevi Reyes was born and raised in the Caribbean Island of Puerto Rico, where her extended family influenced her early interest in the arts of embroidery, sewing, and jewelry making. Drawing upon the timeless beauty of ancient jewelry for inspiration she has developed a stylish line which is a blend of the ancient art and contemporary fashion. She called the line Fevi Reyes and it is designed and crafted with the utmost attention to detail. The entire collection is handmade and with the intent that you can collect and cherish them for a generation to come
Habit Boutique
Like the name implies, Habit Boutique is a store meant to satisfy every woman's fashion curiosity. Located just off Miracle Mile in Coral Gables, Habit offers a break from the bridal shop melee and over-priced clothes. Bringing new brands to South Florida, this boutique offers chic clothing at affordable prices. By scheduling a minimum of 3 shipments of week of new clothes and accessories, Habit keeps its inventory original, transforming the boutique into a new store each time a client walks in. Not only does Habit boast a continuous rotation of new styles, but also frequently introduces new designers into the mix, including Bianca Coletti and Nina Rodriguez. The best part, shopping here won't break the bank, either. So go ahead, shop to your heart's content and kick another bad habit.
KRELwear www.krelwear.com
An innovative knitwear line, KRELwear is renowned for its one-of-a-kind, hand-knit "deconstructed" dresses and separates made with tubular knitting techniques- all executed in a wide array of yarn and texture combinations. In the spirit of innovation, each season, KRELwear reinvents itself, developing its line by combining minimal cuts with unique textiles, creative construction, and a mixture of fibers, including recycled, repurposed and organic yarns wherever possible. Known for our versatility, KRELwear epitomizes the transition from day to night, with sexy, playful, sophisticated silhouettes.
Lilacs and Lilies www.lilacandlililies.com
Lilac and Lilies is an upscale boutique specializing in the latest in hip, glamorous, designer styles for the most fashionable, contemporary woman. We feature known and emerging designers such as Black Halo, Eryn Brinie, Mink Pink, Rebecca Minkoff, Rebecca Taylor and Sophia Eugene. You can visit us at our Ft. Lauderdale store or on the web at LilacAndLilies.com.
Maria Lepe www.marialepe.com
Lepe is the perfect complement for the glamorous chic and sophisticated woman with a fresh look. Details is a big statement for Lepe line, each piece can be dressed up or dressed down for that special look you are seeking.
Party Rock www.partyrocklife.com
On a mission to capture their party into a way of life, and get everyone else on the LMFAO wagon, they started making original dance songs in their studio apartment to play in the clubs. In true DIY (Do-It-Yourself) fashion, Red and Sky released their "I'm In Miami Bitch" song on Myspace and branded their signature look — wearing loud colors, rockin' glasses with no lenses and always stayin' fly with one of their own self-designed shirts. To add to the list of entrepreneurial projects, they keep it real with their approach by running their own label and clothing line, Party Rock by LMFAO. "It's always better to have a party in your life," explains Foo. "Fun and laughter, the girls, dancing, celebrating… We want to feel the same way walking down the sidewalk as we do on stage." Which explains an awful lot about their street attire. The guys, who are devout PETA members, favor pimp jackets, oversized glasses (minus the actual glass), faux fur embellishments and the occasional leopard spandex skin tight pants (girls sizes only). If it's not vintage, then it's their own Party Rock brand, which Foo and Sky wear exclusively. And their stylish strut seems to be working. "We get way more women now," says Sky.
Septimo Boutique www.septimofashion.com
Silvia Fassardi's Septimo label may stand for lucky number seven, but the recipient of this year's GenArt Fresh Faces award is creating her own luck, becoming one of Miami's most sought-after designers and, now, owner of a new South Miami boutique. Located on Bird Road, in the center of a thriving shopping district, Septimo is selling much more than the brand's seven signature jewelry lines. That doesn't mean fans will be disappointed. Expect to find most of Fassardi's collection in its entirety in addition to a handpicked lineup of up-and-coming designers. The space is inviting, featuring burnt orange and chocolate brown accents surrounding organic décor.